Kaetan desu! (*≧▽≦)
It's only the first game and Karasuno is still struggling with getting used to Shiratorizawa's playstyle. After misdirecting another spike from Ushijima, Nishinoya makes a promise insisting that he'll get used to the spike in three rounds. It is then that Tanaka's sister, Saeko makes an observation that Ushijima is left-handed. Karasuno's former middle blocker Yusuke Takinoue lets her know that Ushijima is in a position known as the 'opposite', which on a court would make him diagonal from the setter, in this case, Kageyama. The Shiratorizawa players are focusing all of their attacks onto Ushijima and as such, are always prepared to set up an attack from either the front or the back line.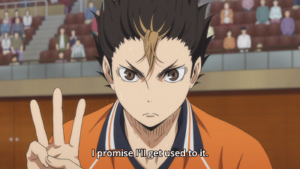 Things take a better turn in the moment as Tanaka finally scores Karasuno's first point of the game. After a brief celebration Saeko asks Makoto Shimada, the team's former wing spiker what is so special about the left-handed players. Shimada tells her that right-handed players usually have trouble playing against those who are left handed. Takinoue elaborates on that by explaining that when a single blocker goes up they jump facing their opponent's dominant hand, which means they're a shoulder's width apart, giving the left hander more control of the situation.
The score is 8-3 in Shiratorizawa's favor when a technical timeout occurs. Yachi explains to Saeko that this only occurs during a five-set match when one of the teams hits 8 or 16 points. Ukai lets the team know that they need to make Ushijima feel as though there is some sort of a wall with their blocking skills.  He needs them to first be able to touch the ball by tightening their defense; even if that means that they aren't able to stop the spike.
The game resumes and Ushijima continues to score points off Nishinoya's misdirection. Akiteru, who is Tsukishima's brother, believes that it is because of the spin involved when spiking  as a left-hander. He also says that Tsukishima is the opposite of a player who moves based on sensations.  The more he feels let down, the calmer he becomes.  He ends only believing in the information that his eyes can see.  However because of that Tsukishima gets himself into the path of the spike, barely touching it with his fingers. The spike hurts one of his fingers which he ends up getting taped in the next technical timeout.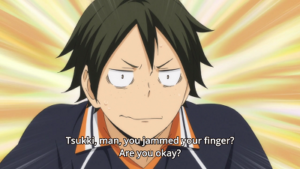 As the boys are heading back onto the court Tanaka tries to get them to relax but then he notices why they have failed to do so. Ushijima is up to serve. Ukai states that while Ushijima does not have as great precision as Oikawawa, his serves can still be considered a powerful force to reckon with. He is proved right  when to see Ushijima finally serves but  Daichi cannot maintain enough control of the receive and it goes out of bounds. Tsukishima raises doubts within himself about the first set, but he soon notices Nishinoya. Nishinoya is just so determined to make that first successful receive off of Ushijima's serve that he is giving off an aura of unbelievable proportions.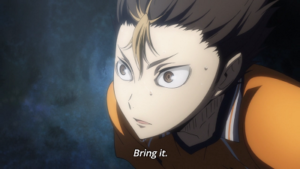 Ushijima finally serves and Nishinoya's determination pays off. The recieve goes straight up in the air. Kageyama takes advantage of the play and fakes a spike setup and sets to Tanaka instead who follows up with a spike, claiming Karasuno's eighth point. Nishinoya's play is clearly a major breakthrough for the team's momentum.
Tsukishima and Nishinoya rotate out with Hinata and Sugawara, who is serving once. Suga serves, but Ushijima doesn't go for it. Instead, another player sets up a spike attack but Ushijima, once more, doesn't go for it but they gain the point anyway. After trading several points each, Kageyama and Hinata  decide to begin making their move. Ushijima spikes, but Nishinoya barely gets the ball up. INstead of spiking, Hinata does a rebound and then goes to do the crazy quick setup.  However Ushijima  surprises them by actually receiving the spike and then sternly insists that he finishes the point, which he does successfully. Shiratorizawa has now claimed the first game. Tendo, another wing spiker notices this and is quick to point that Ushijima, who is normally only concerned with himself, is actually competing against another player, which makes this match more interesting.
As the players prepare for the next game the Shiratorizawa players inquire as to how Ushijima met Hinata.  He explained the scenario for season 2 when he randomly came across Hinata  trespassing on their school grounds, who then had the nerve  to challenge him in the tournament. However he severely dislikes Hinata stating "I hate confidence that has no basis" *jeez cold. The next game begins and Tsutomu serves for Shiratorizwa, but Daichi  see through it and gets the recieve. Karasuno  sets up a fake synchronization  attack which hides Kageyama setting the ball back to Daichi who spikes it past the defense. Ukai sees that the team is  beginning to make more and more contact with the ball. At this rate, they just have to continue using the strategy they came up with and attacking at any open chance.
Tsukishima serves and after a few passes, Kageyama sets up Hinata for the quick, but he is blocked by Tendo instead of Ushijima. SURPRISE! Tendo challenges Hinata with a smug look on his face. "If you want to beat Ushijima, you're going to have to beat me first. Ya know?"
As the episode ends, the score is now 4-2 in favor of Shiratorizawa in the second set. See you next time for episode 3, "Guess Monster"
Season 3 of Haikyuu!! airs on Crunchyroll every Friday at 2:30PM (AST)
Tell us how can we improve this post?