SOME SPOILERS AHEAD.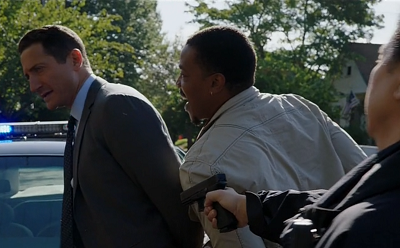 I think it's time we killed Renard. If he's not dead by the end of the season, I say we riot. My feelings about him as a character have been up and down since the beginning: I've loved him and I've hated him. Right now I think you can just about guess where I'm at with him.
Just when I thought they'd nailed him with Rachel's murder and drove him into a corner with the Trust Me Knot, he manages to wriggle his slimy self out of both. The way the deal broke down was logical and pretty clever, although the it was a pretty big loop hole that maybe they should have seen.
This episode confirmed what I had assumed coming out of last week's; that Nick would be on the run for most, if not all, of this season. And now Hank and Wu are going to resign and can freely join in on the "fun." It would have been a great asset if they were still on the force and could feed Nick information, though. And Trubel is gone now so she can't even get in on any of this action.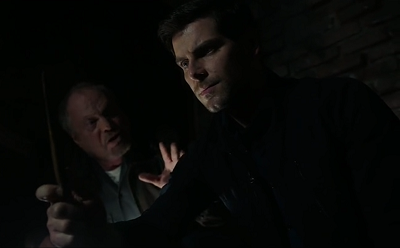 Nick's little magic stick is giving me some eerie "The One Ring" vibes at this point. It attacked the S.E.R.T. team when one of them took it from Nick, so it looks to have a mind of its own and like it's corrupting Nick and making him obsessed with it. If he'd had started hissing "my precious" I would not have been surprised.
Using the cloth as a starting point to find out more about it's origins and power make perfect sense and I am one hundred percent behind Eve/Juliette in this endeavour. She's right, that thing will likely kill them eventually once they've served their purpose or it simply doesn't like them anymore or perceives them as a threat. I am very curious as to what it has in mind for Eve/Juliette. It did save her after all. And since she is the one spear heading the hunt for answers about it, I suspect that if and when she gets too close to some not so pleasant information, it'll try to off her.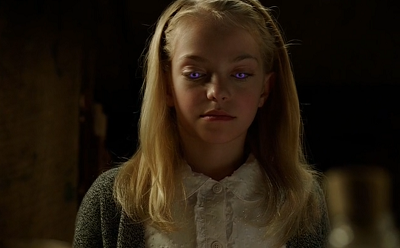 Diana managed to help someone for once in a way that did not involve violence or murder. When she's not being the scariest thing in the room, she's actually very cute and sweet. And for someone who desperately wants Adalind and Renard to be together, she's surprisingly not hostile toward Nick. She was also surprisingly funny here, especially when she asked Monroe "why" when he praised her abilities and said she likes Kelly because he "doesn't talk much."
Of course she can see the symbols on the cloth and of course there are more of them than the three Eve/Juliette could see. Diana's been more or less a mcguffin since she became part of the story. So doing literally anything the writers can think of and need at any given moment is just a given. If I had to be left alone in a room with her I'd be just as scared and uncomfortable as Monroe.
It seems like he and Rosalie will be the only characters who will have some semblance of their normal lives back this season. They kind of have to sit this one out, what with Rosalie being pregnant and all. I will forever be in love with these two and root for their relationship. It's a shame that this is the last season and we won't get to see them as parents.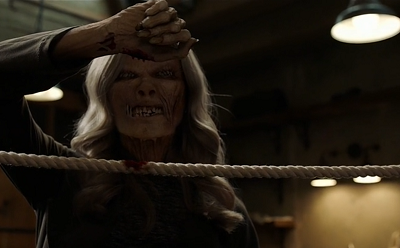 I loved seeing hexenbiest Adalind back and performing magic. Unfortunately it looks like she will be going back to being the pretty little damsel she's been for a while longer since she has to go back to Renard. But Adalind being Adalind, we'll get some zingers and some shade – no pun intended – out of her. She does not even attempt to hide how much she hates Renard.
Random thoughts:
That rear projection was very obvious.
They didn't read Renard his Miranda rights.
He called Adalind? Does she practise that kind of law?
Monroe: "…if Diana disappears we can't be held accountable." Agreed.
Diana knows she can't use her powers like that in public right? Does she even need a sitter?
I love Bud.
Guess we won't be seeing much of Trubel this season.
Grimm airs Fridays at 8 PM on NBC.
Tell us how can we improve this post?