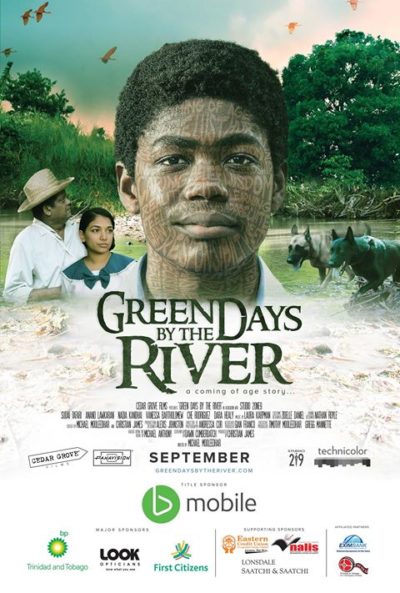 The trailer for the film adaptation of Trinidadian author Michael Anthony's acclaimed 1967 novel of the same name, was released on the film's Facebook page today. Set to be released in Trinidad on the 27th of September, the film was written by Dawn Cumberbatch, directed by Michael Mooleedhar and produced by Christian James. The film stars Sudai Tafari, Nadia Khandai and Vanessa Bartholomew, all first time actors, as Shellie, Rosalie and Joan respectively.
"In a remote village by the sea in 1952 Trinidad, a Black ambitious fifteen-year-old, SHELL, is charmed by the attractive Indian girl ROSALIE, and flattered by the friendship of her father, GIDHAREE, who mentally accepts him as a future son-in-law. Despite his father's terminal illness, Shell follows a compassionate Gidharee to work his exotic plantation along the river with his large hunting dogs, in hopes of attracting Rosalie. All the while, Shell falls for a tender, dainty girl from the city, JOAN. The love triangle develops, as Shell leads on the girls, not realizing the trap designed by Gidharee to ensnare his manhood. When Dragon's Blood, a stimulating liquid is given to Gidharee's dogs, a strong threat is sent to Shell who must face the consequences of his actions." –  greendaysbytheriver.com.
In an article posted to the bmobile website, Mooldeehar said that "We [he and James] tried to stay true to the book and create something that Trinbagonians can be proud of…This film is unique because this is a Trinidad and Tobago story by a Trinidad and Tobago director and producer. It's being told by us for us."
The first adaptation of the novel, the film will open this year's Trinidad and Tobago Film Festival – running from the 19th to the 26th of September – the first Trinbagonian produced and directed feature film to do so. The novel celebrates its 50th anniversary this year.
We proudly present the long awaited, Green Days by the River – Official Trailer

Posted by Green Days by the River Film on Tuesday, August 15, 2017
Tell us how can we improve this post?