SOME SPOILERS AHEAD.
Besides Hannah having her baby, it's hard to imagine where Girls will go from here. This episode feels so final – as did the last one about Adam – that aside from an epilogue, where else could the show go? There has been so much closure in these last two episodes.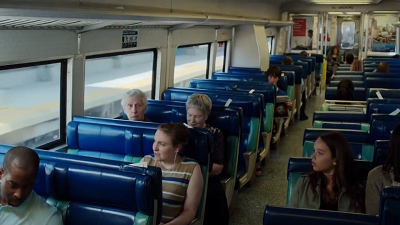 As the episode title suggests, Hannah went on a "goodbye tour", seeking advice from her loved ones concerning whether or not she should accept a job offer as a university professor. A job which would require her to move out of New York City and away from them.
Naturally, the first person she told was Elijah and his reaction to the news of her potentially moving was similar to his reaction to her pregnancy. His major point of contention was the life that he and Hannah currently had and the one they had envisioned together and how this decision would impact and change that. By the middle of the episode, he seemed sad at the prospect of her going but ultimately supportive. She tells her father next and, true to how he's been as of late, he is encouraging and sees it as a great opportunity.
Hannah tries throughout the episode to get in touch with Marnie, who we see is ignoring her calls. When Hannah goes to Shoshanna's and accidentally crashes her engagement party, we see why; Hannah wasn't invited, but Marnie was and she claims that she didn't want Hannah to feel left out. That was honestly a terrible excuse and not at all a reason not to answer her phone. But this is Marnie, expecting better of her would be a fruitless endeavour.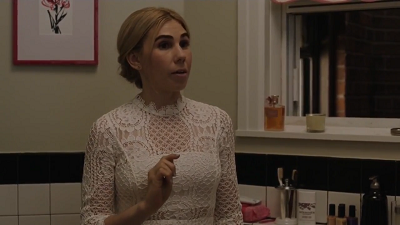 At least now we have a reason for Shoshanna's absence this season. She is no longer friends with the other girls nor does she want to be. She has a hot new fiance and new friends who are pretty girls with jobs and purses. Hannah, Marnie and Jessa are no longer good enough for her. She's become the society snob she's always pursued being. She was unnecessarily bitchy in how she addressed them.
She did have a point about their dynamic as a group and how they all try to make a situation about themselves. And the fact that  Hannah didn't tell her about her pregnancy and that she didn't tell Hannah about her engagement, spoke volumes about what they mean to each other. That being said, I'm sure that Shoshanna not inviting her was a childish response to Hannah not telling her about her pregnancy and not some slip of the mind.
Hannah was somewhat justified in her anger about the slight and it didn't help that Marnie knew and purposely avoided her. But that was admittedly a tricky situation to navigate on Marnie's part. That Marnie was the one who tried to be an adult and address the situation by having everyone air their grievances was a surprise, considering that she is the least matured one in the group. In some ways though, having a group meeting is kind of juvenile. It's still admirable that she attempted to repair their friendship however.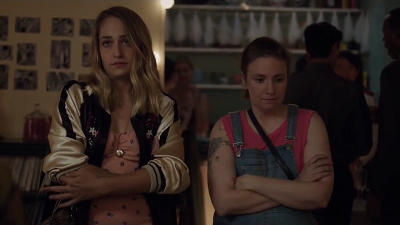 I was glad for the reconciliation between Hannah and Jessa. I was surprised that they started talking – and amicably at that – and that despite their last encounter, Jessa still bought her something for the baby. They both apologised to each other for everything and forgave each other. It was sweet and not something I expected to happen. It made me wonder if Jessa and Adam were still together.
The episode ended with Hannah doing her signature awkward dancing and watching each of her girlfriends off by themselves, doing their own thing; essentially she was watching them be the people they'd become over the course of the series. It was sad seeing them all separated and realising that their little foursome had drifted apart. Even sadder still was the fact that there was not just one, but two shots of Marnie, Jessa and Shoshanna framed together in Shoshanna's window. They weren't exactly together, but Hannah was absent.
The final shot in the episode really drove it home; Hannah hugging herself and looking a little melancholy.
Random thoughts:
I know Hannah was a high school teacher, but is she even qualified to teach at tertiary level?
This woman interviewing Hannah is really weird.
This is an amazing opportunity. Why isn't Hannah saying yes?
Caroline is still super weird.
Where's Marnie?
Online therapist? Really?
Hannah's having a boy!
Tell us how can we improve this post?