Kaetan desu! (*≧▽≦)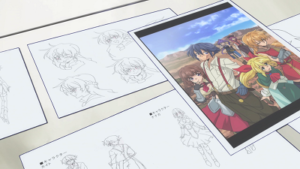 We pick up from where we left off last week with the next meeting for the character design. The author's editor is pressing the anime team for answers on the corrections for the key visual. The line producer said that Kuzu told them to go with that style, but because they used a separate individual not on the actual team from the president's connections to create the PV, it didn't come out the way the author intended it to. The mangaka's side is concerned with the quality of the key visuals and the staff are concerned with the amount of time to apply those corrections and focus on the actual show. Kuzu reassures everyone that key visuals aren't as important as their only part of the promotional material.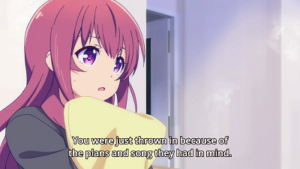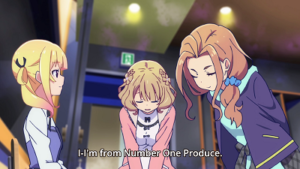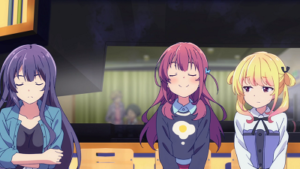 Elsewhere, the staff is getting ready to begin the first recordings for the anime and all of the main cast have arrived. Koto and Yae formally introduce themselves to Momoka and Kazuha as they enter the recording booth. This is considered to be a sign of respect to those who have been in the industry longer than you. Chitose is under the impression that because she has the lead role, she does not have to do anything, and that everyone else should be greeting her. It is only after Yae's insistence that she as a newbie greet everyone, that Chitose finds out from Momoka that a newbie with a lead role is supposed to have done their greetings before everyone else.. (Awkwaaaard)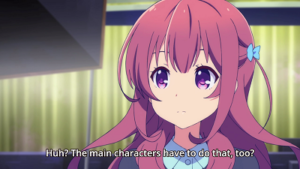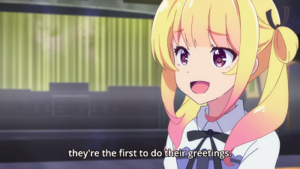 Kuzu, Director Oihata and the author of the light-novel come into the booth and introduce themselves and then test recordings begin. Chitose is obviously smug with her lead role, but Momoka looks concerned for her behavior. Elsewhere, Gojo talks to Momoka's mother who tells him about a rumor that the person in charge of the series production quit the project halfway through the production stages because the author didn't want to cooperate and the person in charge of each episode ended up taking over. This could create problems for the script but she assures Gojo that it has nothing to do wih the seiyuu and their managers.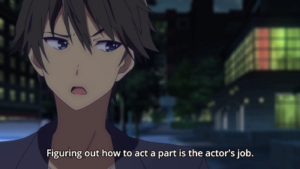 Back in the recording booth, it is now 10:00PM and recording is done for the day. Chitose wants to head out for drinks, but everyone has other plans and Gojo then tells her that she has to stay behind for corrections. The following evening, Chitose is taking up too much time to voice her lines correctly, so the director skips her and does Momoka and Kuzuha's lines first as they have to leave, and they'll correct Chitose's lines later on. Chitose doesn't seem to want to understand that she wasn't chosen for her talents, until Gojo spells it out for her. She is a pawn in the project because of the plans so she has to work harder than a person that would have been chosen in order to produce results. This ends up being a real downer for Chitose. The next day at recording, she realizes that Gojo was right about her acting when she does a line and the staff take too long to get back to her. When she goes to him for advice, Gojo tells Chitose to speak to the sound director so she can clear things up. As they walk home, Gojo asks Chitose about her meeting with the sound director., but Chitose says she didn't understand anything that he said, and all he spoke about was her character's personality. This girl doesn't seem to want to understand that in order to understand how to act a part out properly, the seiyuu cannot rely on others to do their job for them. They should be able to do their own research and apply it effectively to their work. (Her personality is starting to piss me off honestly -_-)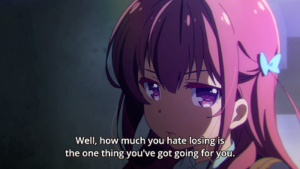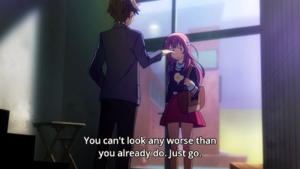 The next day, Chitose has arranged a meetup with Momoka in a cafe where she asks her for tips on improving her voice acting skills. Her reasoning behind inviting Momoka is Chitose has no one else she can talk to, because of her terrible personality, which Momoka wastes no time in calling her out on. Momoka says that but she takes from previous characters that she has voiced and adjusts herself to suit but since Chitose has only being assigned as background characters till now, that then she should use another piece of work as an example. When Gojo gets home, he finds Chitose in the living room with a bunch of reference DVDs and notes, which puts a smile on his face to see that she is trying to better herself.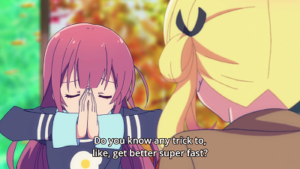 The next day, everyone notices that Chitose's acting has vastly improved and because of that, recordings finished up early for a change. Momoka invites Chitose and the rest of the main cast to go out afterwards and even Kazuha agrees to join them for a while. While they celebrate, Kuzuha and Momka discuss Chitose's acting for today while washing their hands. Although it has gotten better, Kuzuha says that Chitose's performance was dull. Momoka knows that a dull performance is what the staff everyone wants so she wonders to herself anxiously what the problem is with that. And with that, we'll see you for the next episode!
Girlish Number airs on Crunchyroll every Wednesday at 1:00PM (AST)
Tell us how can we improve this post?