Project Scorpio– the long awaited love child between the Xbox One and average gaming PC has finally been unveiled in all its glory. We PC gamers scoffed at the idea of a gaming console being able to keep with any modern PC aimed towards gaming. It's however hard to deny the impressive hardware Project Scorpio (its current name) packs under its hood.
Scorpio's CPU has eight custom x86 cores clocked at 2.3 GHz, with its GPU bringing in 40 customized compute units clocked at 1172 MHz. To help support this impressive horsepower, the unit has 12GB of GDDR5 RAM with a memory bandwidth of 326GB/; substantially higher than the 8GB and 256GB/s of AMD's RX 480 PC graphics card. Seeing these specs, it's hard not to say Microsoft created this system with the intention of seeking vindication for its initial lacklustre launch of the Xbox One. The Scorpio absolutely rolls over the PS4 Pro's specs, beating it in every category.
There's currently no official retail price for this product, seeing how aggressively priced the PS4 Pro is we should expect Microsoft to answer that challenge in full; so we suspect around $499. Scorpio is being pushed hard as a more than capable 4k machine, but so far the PS4 Pro 4k promised has left a lot to be desired for. If Microsoft can capitalize on that disappointment among console gamers, I expect to see Scorpio doing very well. So what does it means for us PC gamers? If the Scorpio system does well, PC gaming hardware prices will respond by being even more competitive moving forward.
Nvidia has unveiled its newest Titan GPU dubbed the 'Titan Xp'- this new beast is powered by 3840 Cuda cores running at 1.6GHz, and 12GB of DDR5X memory. The card runs on Nvidia's infamous Pascal architecture and is priced at a mammoth $1200. As usual hard reviewers have been giving the new GPU a river of praise for the sheer power the Xp is capable of, but see how Nvidia priced this new GPU, and ask yourself is it that much better than the still relatively 1080 ti? In my opinion no, that ludicrous price is there merely for bragging rights, however, it does seem AMD has pushed the green team to reveal their hand early. I think it's safe most of us was expecting this GPU later down in the year, but the thought of AMD's Vega GPU being on the horizon has noticeably shaking the current king of graphics cards.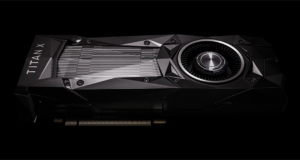 Below you will find the important technical specifications of the new Titan Xp:
GPU Key Specs
NVIDIA CUDA® Cores 3840 Base Clock (MHz)1582
Memory Specs: Memory Speed 11.4 Gbps
Standard Memory Config: 12 GB GDDR5X
Memory Interface Width: 384-Bit
Memory Bandwidth (GB/sec): 547.7 GB/s
Technology Support:
Simultaneous Multi-Projection: Yes
VR Ready: Yes
NVIDIA Ansel: Yes
NVIDIA SLI Ready: Yes – SLI HB Bridge Supported
NVIDIA G-Sync-Ready: Yes
NVIDIA GameStream-Ready: Yes
NVIDIA GPU Boost: 3.0
Microsoft DirectX: 12 API with feature level 12_1
Vulkan API: Yes
OpenGL: 4.5
Bus Support PCIe: 3.0
OS Certificates: Windows 7-10, Linux, FreeBSDx86
Display Support:
Maximum Digital Resolution: 27680×4320 @ 60Hz
Standard Display Connectors: DP 1.43, HDMI 2.0b
Multi Monitor: Yes
HDCP: 2.2
Graphics Card Dimensions:
Height: 4.376″
Length: 10.5″
Width: 2 Slot
Thermal Power Specs:
Maximum GPU Temperature (in C): 96
Graphics Card Power (W): 250 W
Recommended System Power (W): 600 W
Supplementary Power Connectors: One 6-pin, One 8-pin
Finally we move onto Overwatch news- last year, Blizzard decided to take on the notorious German cheat programme maker Bossland for "copyright infringement, unfair competition and violation of the DMCA's anti-circumvention provision". The World of Warcraft developer was asking for $8.5 million in damages; to which Bossland strongly opposed to the very end when a California ordered them to pay $8.6 million. From the start, Blizzard argued that the cheat maker "reverse-engineered and otherwise altered its games without permission", a claim to which Bossland had no defense against. This led to the company being found guilty of 42,818 counts of copyright infringement.
Even after this ruling, Bossland's website is still up and functioning as normal. It is worth noting that if you visit the site from the UK, you shall be greeted by the following message:
"On 16th March 2017, Bossland GmbH, and its directors Mr Zwetan Letschew and Mr Patrick Kirk admitted, in and for the purposes of proceedings before the High Court of England and Wales, that the sale of its software which it sells as Honorbuddy, Gatherbuddy, Demonbuddy, Hearthbuddy, Stormbuddy and Watchover Tyrant, to any person resident in the United Kingdom, constitutes an infringement of Blizzard's intellectual property rights and an inducement to players of Blizzard's games to breach their agreements with Blizzard. 

"Accordingly, Bossland and its directors are no longer permitted to advertise or offer for sale such software to UK residents."
That has been your gaming news for this week; for more news stories like this and others, keep it locked to this space.
Tell us how can we improve this post?