This week we begin our dish of news with some controversy from an unlikely source; Bethesda Softworks announced this week, that moving forward they will only provide review samples to game reviewers a day before the official launch of the game. Yes you heard it correctly, the reviews you want for their upcoming games you are interested in, will come at best, on the day the game is released.
The statement read as follows:
At Bethesda, we value media reviews.

We read them. We watch them. We try to learn from them when they offer critique. And we understand their value to our players.

Earlier this year we released DOOM. We sent review copies to arrive the day before launch, which led to speculation about the quality of the game. Since then DOOM has emerged as a critical and commercial hit, and is now one of the highest-rated shooters of the past few years.

With the upcoming launches of Skyrim Special Edition and Dishonored 2, we will continue our policy of sending media review copies one day before release. While we will continue to work with media, streamers, and YouTubers to support their coverage – both before and after release – we want everyone, including those in the media, to experience our games at the same time.

We also understand that some of you want to read reviews before you make your decision, and if that's the case we encourage you to wait for your favorite reviewers to share their thoughts.

Skyrim Special Edition releases globally on October 28 for PlayStation 4, Xbox One and PC. Dishonored 2 releases globally on November 11 for PlayStation 4, Xbox One and PC.
Ignoring how much bullshit that statement is (at Bethesda we value media reviews??? Sure looks like it), this is certainly going to spark an anti-consumer trend from other developers. We often wait for reviews to come out before we spend our good money on these $60 dollar games, and we certainly deserve to know beforehand if these games are worth purchasing. Too often in the last few years, gamers have been caught up in the also distasteful pre-order culture, to be then saddled with broken often unplayable games. What we did not need, was less reviews Bethesda; we know you have earned a lot of good will from us gamers who respected the games you have been releasing, however this is one act we cannot and SHOULD not stand for.
Moving onto Sony, this week they showcased two new controllers by Razer and Nacon that will be released sometime this year (for holiday season since you know…the year is soon over). This is clearly in response to Microsoft's Xbox One Elite controllers earlier this year that gamers have taken a liking to.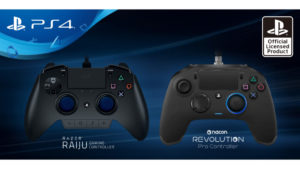 The Razer Raiju has:
Two extra bumpers and two extra detachable triggers
Built-in control panel on the front of the controller
Trigger-stop switches and hair trigger mode for faster responses
Two custom profiles which can be switched between easily
5mm headset jack with dedicated headset volume and mute buttons
Detachable analog stick rubber caps
Compatibility with all PS4 systems via the braided 3m- long detachable USB cable
The Nacon Revoluton Pro has:
46° amplitude dual analogue sticks, enhanced with innovative firmware for advanced eSports accuracy and reach
Four extra shortcut buttons
Eight-way directional pad
Four custom profiles – all configurable via the companion PC application, enabling players to: re-map buttons, assign macros to the four shortcut controls and adjust analog and trigger sensitivity
Two internal compartments with six additional weights – for a tailored balance and feel
Compatibility with all PS4 systems via the 3m-long secure connection USB cable – detachable for easy storage.
These two devices have a healthy amount of customization available to gamers, I am sure the prices will look quite healthy as well.
And finally…Steam Halloween is here today! We can expect tons of sales, especially on horror theme titles, but so far we know these titles here will be on discounted prices:
Resident Evil 6 – 75% OFF
BioShock Infinite – 75% OFF
AFK: Survival Evolved – 33% OFF
Dying Light – 75% OFF
Keep your eyes peeled for more discounted titles to come.
What are your thoughts on this week's stories? I really want to hear what you think about Bethesda and their "noble" act. Stay locked to this space.
Tell us how can we improve this post?