After Hideo Kojima's untimely and spectacular exit from Konami last year, fans of the famous game director were eager to know more about his future projects. During a pre-Tokyo Game show press
conference this week, it was revealed that Death Stranding would be an open-world action game which aims to connect players. He mentioned how the name of the game originated from the phenomenon of cetacean stranding, where dolphins and whales wash up on land and die. While other games offer elements analogous to "sticks" for gameplay, Death Stranding will also offer "ropes" to tie and link players together. "At the end of the day I want to offer an action game where people get connected with different elements, not just clubs," Kojima said through a translator. Kojima is obviously keeping deeper details on the game close to his chest for now, but fans of his work will have faith in him to deliver a solid gaming experience. His production company, Kojima Productions, is developing this title and is set to feature Walking Dead's star actor, Norman Reedus. This collaboration is a reteaming between the two following the much hyped but cancelled Silent Hills Project "P.T".
Earlier in the month, Sony officially announced a beefed up version of the PS4, dubbed the PlayStation 4 Pro. This machine features 4k compatibility, a more powerful processor and reportedly enhanced graphics. President and Global CEO of Sony Interactive Entertainment, Andrew House, was quoted in saying the new console was "targeted to the hardcore gamer or those who have invested in high end display technology". Which is an interesting statement, considering most if not all hardcore gamers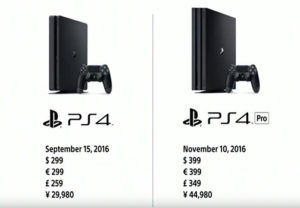 usually game on the PC. Ironically, those are the players Sony management seems to think they can bring over to their gaming market. From an interview with The Guardian, Mr. House stated, "I saw some data that really influenced me," he said. "It suggested that there's a dip mid-console lifecycle where the players who want the very best graphical experience will start to migrate to PC, because that's obviously where it's to be had. We wanted to keep those people within our eco-system by giving them the very best and very highest [performance quality]. So the net result of those thoughts was PlayStation 4 Pro – and, by and large, a graphical approach to game improvement."
All very good things to hear for a smooth gaming experience, however, this product on paper has nothing to sway PC gamers from reconsidering their gaming platform choices. Sony claims it will have "4k compatibility" but it certainly will not support 60 frames per second at that resolution, the standard with PC gamers aim for. As things stand right now, it is not said to be upgradeable; another aspect PC gamers are accustomed to utilizing. From all indications it seems to be simply a more powerful version of a PS4, and just like the PS4, in a years' time it will be outdated. PS4 Pro is set for a mid-November release, with a recommended retail price of $399
Sticking with Sony Interactive Entertainment, some controversy stirred late last week after it was revealed by Bethesda Game Studios that Fallout 4 mods will not be supported on the PlayStation 4. This is of course in contradiction to the initial statement at the launch of the game, that mod support will be available on all three (3) platforms, (Xbox One, PlayStation 4 and PC). "After months of discussion with Sony, we regret to say that while we have long been ready to offer mod support on PlayStation 4, Sony has informed us they will not approve user mods the way they should work: where users can do anything they want for either Fallout 4 or Skyrim Special Edition," wrote the Betheda.
As of posting this article, Sony has made no official statement on the matter, but it does leave Fallout 4 players on the PS4 in a confusing position. Mod support was one of the major selling points of the game on the platform, and now that it is seemingly never going to be available, they will be forgiven for feeling cheated out of the full Fallout 4 experience. Fallout 4 is an action role-playing video game developed by Bethesda Game Studios and published by Bethesda Softworks for Microsoft Windows, PlayStation 4, and Xbox One.
Tell us what you think below of these three stories. Do you have confidence in Hideo Kojima to deliver another gaming experience on par with his previous works? Does the PS4 Pro have a chance to sway PC gamers into investing in the console market? What do you think is the reason behind Sony's refusal to allow Fallout 4 mods? For more gaming and tech news, stay connected to Zeitgeist Entertainment Magazine.
Tell us how can we improve this post?