This year marks the tenth anniversary of Barbados' only pop-culture convention, AnimeKon. In just a little over four months, thousand of fans of comics, gaming, film, anime, cosplay and all manner of geeky interests will congregate at the Lloyd Erskine Sandiford Centre, where they'll meet the first of the convention's guests for year: Iwood Cosplay.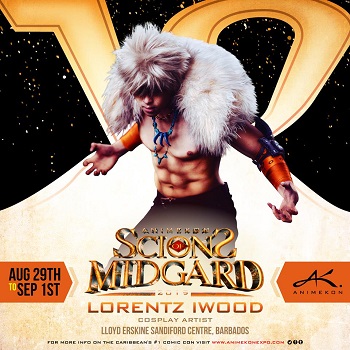 Lorentz iWood is an award-winning cosplayer, crafter and vlogger. A lover of anime and video games, he has been a professional cosplayer since 2015, when Iwood Cosplay was established "with the purpose of educating and inspiring others to not only make things but also to embody their favorite role models-fictional or not."
He was awarded Best in Class for the Master's Division at Anime Expo 2016, has guested at several conventions in the U.S. and in Mexico and Puerto Rico and makes cosplay tutorials on his YouTube Channel.
Learn more about Iwood Cosplay on his guest page on AnimeKon's website and his "About Me" on his website.
Tickets for AnimeKon X: Scions of Midgard are on sale now and can be purchased online from Ticket Pal or from these locations:
A&B Music – Sheraton Centre
BCSL – Lloyd Erskine Sandiford
Carlton Supermarket – Black Rock
Cave Shepherd – Broad Street
CS Pharmacy – Bridgetown
Digicel – Sky Mall
Emerald City – Six Roads
Heroes Gamer's Lounge – Belleville
Indigo Stationery & Gifts – Black Rock
Komik Kraze – Sheraton Centre
Lucky Horseshoe – Bagatelle
Lucky Horseshoe – Warrens
Lucky Horseshoe – Worthing
NU Look – Bridgetown
Origin – Limegrove
Rubis Service Station – Wildey
Sol – Redmans
Ticket Centre – Warrens
Watch the AnimeKon IX: World of Wonder After Movie below:
Tell us how can we improve this post?