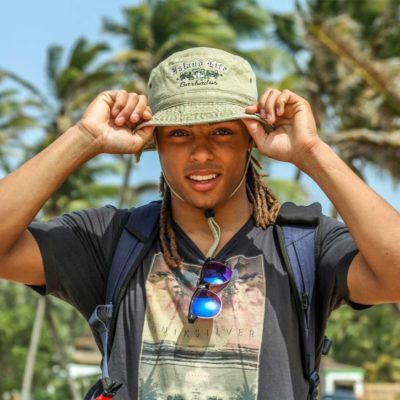 Victor White is a second generation Barbadian living in Sweden and a competitive freeskiier. This past weekend, he made history as the first Barbadian to compete in the World Ski Championships and is perhaps the first Barbadian to compete in any international winter sports competition. He took a few moments from his hectic schedule as a competitive athlete, to speak to Zeitgeist about his life and career as a freeskiier.
In your "Support Barbados in the World Ski Championships" video, I noticed that you don't have a Barbadian accent. May I ask where you reside currently?
Victor White: Yes, that's true. I [was] born and mostly raised in Sweden. My dad moved to Sweden from Barbados when he was in his twenties, he then met my mom after a couple of years. I have my base in Sweden during the winter and [in] Barbados in the summer.
What is freeskiing exactly? How is it different from regular skiing?
VW: Well, in regular skiing you basically ski down the slopes of the mountain. Then you have the alpine skiing, in which you can compete, where you ski [through] gates; which probably comes to most [people's] minds when talking about skiing. Freeskiing, which is my discipline, we ski in terrain parks. [There are] [b]ig jumps built from snow and [we] slide on rails of metal. It is called free skiing as it is very free in the sense that when we are competing we have a course with a lot of different options with basically no rules on how you ski it.
How did you get into freeskiing?
VW: I started with alpine skiing around the time [that] I learned to walk. My mom got me [into] it since all of the family on her side does it. Then when I got older I got bored of skiing gates. I admired the cool guys jumping on the kickers doing tricks. So I decided to go for that instead. Since that day I have not looked back, only kept moving forward trying to reach my goals!
So you've been skiing all of your life pretty much.
VW: Yes, exactly!
How old are you?
VW: I turned 20 in February.
Can you explain the hashtag "#BarbadosFreeSki"? When I saw the words "Barbados" and "ski" together I was a little confused and I imagine other people may have been as well. Did you think about that when you created the hashtag?
VW: Well, yes. That is the point of it. Of course people are going to get a little bit confused, since there is no snow on the island. I created the hashtag with a sense that it will stand out and stand proud! Hopefully that confusion turns into curiosity and people look further into it!
It made me curious so I'd say you achieved your goal.
VW: Hehe, good!!
For those of us who don't know, what is the World Ski Championships and have you competed in any other international ski competitions?
VW: The World Ski Championships is, as the name states, "The World Skiing Championships." It is the third biggest competition in the ski community after the [X-Games] and the Olympics. The Championships [run] every two years, just like any other world championships. As for other international competitions I have been pretty much all over the world, from China to New Zealand!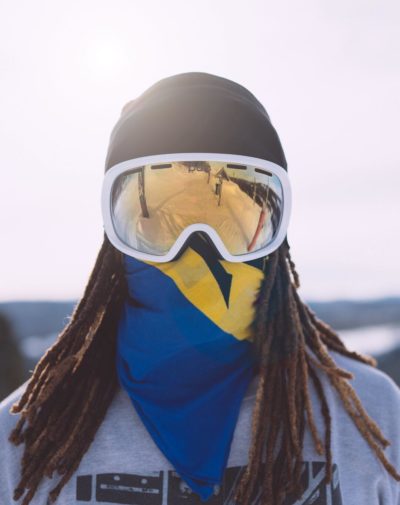 Did you represent Barbados in those other international competitions?
VW: Always Barbados. Barbados is actually well known in the skiing community now, believe it or not. Hehe!
And we have you to thank!
VW: Haha, I guess so!
As someone from two countries, why did you choose to represent Barbados over Sweden?
VW: Well, my father, Calver, always wanted me to represent Barbados. We started the process together. Unfortunately he passed away [from] cancer 2.5 years ago. I am honouring him by competing for Barbados, fulfilling our goal. I am also very proud to be a 2nd generation Barbadian, I want to put Barbados on the map in the [winter sport] community!
My condolences. Sorry to hear that.
VW: Such is life. I have his love forever in my heart [though]!
How does it feel to be the first Barbadian to compete in winter sports as a free skiier? Was it always your goal to be the first?
VW: I would not say that the fact [that] I am doing this as a Barbadian feels special. What is special is the support and the love from all [of] my friends, family and fellow Barbadians on the [i]sland. It is something special, that I feel is unique, having my country standing behind me to 100%. Well, my goal has never been to be the first Barbadian in a winter sport. My goal is to be the first Barbadian to take an [Olympic] gold medal, since we only have a bronze from Obadele Thompson.
Speaking of the Olympics, how is your campaign to attrach sponsorship for next year's Winter Olympics going?
VW: Unfortunately I have not received any emails yet. This stuff usually takes a lot of work and commitment. I have to keep on trying!
Support Barbados in the World Ski Championships

Share this video! Support #BarbadosFreeski in the World Ski Championships! Subscribe to my YouTube Channel @WorldofWhite! The team is traveling to Spain on Tuesday, videos will start drop on Monday (Tomorrow). #WorldofWhiteContact me at: freeskiervictorwhite@gmail.comThe Barbados Olympic Association Inc.

Posted by Victor White on Sunday, March 12, 2017
Would you like to see more Barbadians – and Caribbean people in general – competing in winter sports? What do you think is the feasibility of that and what can be done to encourage it?
VW: Yes of course! Hopefully I can reach out to the large crowds. I know [that] there are a lot of 2nd generation Barbadians in Canada for example. I have no doubt [that] we have a good winter sports athlete among them! I try to encourage physical activity in general, and I know for example [that] there is an ice rink in Barbados. We have to work with what we have got, it would not surprise me if we see a Barbadian figure skater in a few years! Many of the UK skiers grew up skiing on plastic, so anything is possible!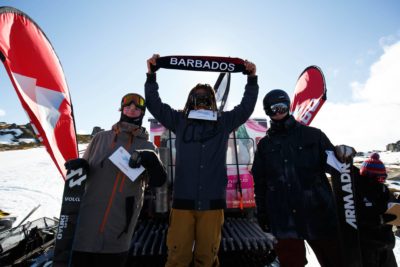 How is the World Ski Championships going for you so far?
VW: Not so good. In slopestyle, my discipline, where we in this case ski [through] a course with 4 jumps and 2 rail features, [w]e do a qualification where you have 2 runs, the best one counts. Unfortunately we had some weather difficulties decreasing our practice time in the course, we also had to push the qualifiers from Friday to Saturday, then semi-finals on Sunday. I did not make my run in the semifinals ending 43rd in total. I am very disappointed [in] [myself], but at the same time I am happy I did not hurt [myself] too much as the course was very icy due to the harsh weather conditions early in the morning. My sport is a "high-risk" sport. Which means we always have to determine risk vs. reward. Some of the top guys pulled out due to the risk factor.
43rd out of how many competitors?
VW: 43rd out of 56.
Okay. Last question: What is your favourite Bajan dish?
VW: Pig tail with sauce. Omitas sauce, that is the best for sure!
Like Victor's page on Facebook, follow him on Instagram @victorwhit3 and subscribe to his YouTube channel World of White.
Tell us how can we improve this post?