It's Capstone season at the Errol Barrow Centre for Creative Imagination. Starting today, May 18th, until tomorrow, May 19th, students from the 2017 graduating class will be presenting their creative projects in the areas of film, theatre and dance.
As the name "Capstone" suggests, these projects are the culmination of everything they have studied and learned as they pursued their Bachelor of Fine Arts degrees.
Today we meed Stefan Forde.
---
Introduce yourself, what has your journey as an artist been like?
Stefan Forde: It has been quite an adventure being an animator and film maker. I [initially] came from a more [scientific] background so the entire thinking space and attitudes sometimes seem foreign to me but [somehow] I feel at home. [M]y switch [from science to the arts] is God inspired and so far I truly believe [that] I have found my place.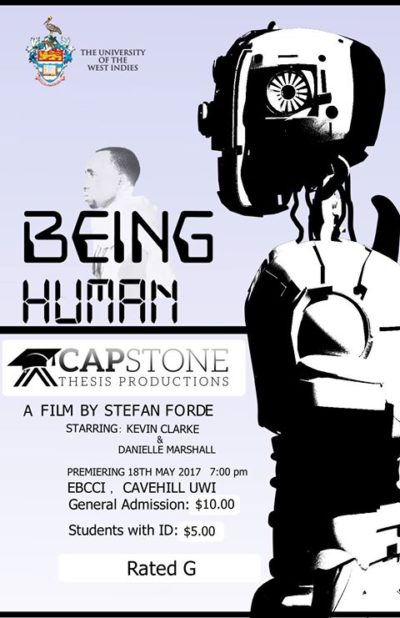 What's the name of your capstone project and what is it about?
SF: Being Human is a film about a society's social interaction which is controlled by an artificial intelligence.
What inspired you to choose this topic?
SF: Being a [C]hristian I like the  aspect of which [man's] creation eventually [gets] to a point where it seeks to believe [it's] better than the creator, meaning the AI believes it knows [what's] best for human survival.
How has the Bachelor of Fine Arts, Creative Arts journey been? Looking back at your time at UWI?
SF: [There] were ups and downs but through it all I learnt important [lessons] and made so [many] new, remarkable and splendid friends.
My drive crashed, and I was pushed [off] course at the last minute. I had back ups but I was set on finishing on the drive I had.
What was the most challenging part of your capstone journey?
SF: [To] be honest it was more filming my cast and talking with them and also meeting a tutor who was looking out for the well being of the class.
What reaction do you look forward to on your screening night?
SF: [I] hope people enjoy it and [I] also [want them] to see that [it's] possible to aim [for] and accomplish something very different. [E]ven if you make mistakes, they are there to challenge the other artist under you to do better and also [it's] a challenge for yourself.
What's next?
SF: [W]ell I hope to travel the world and meet amazing people and to be honest to know Christ more and have my art reflect the relationship I have with him.
See Stefan's film Being Human tonight at  7:oo PM at the Walcott Warner Theatre of the Errol Barrow Centre for Creative Imagination.
Tell us how can we improve this post?