A Caribbean Dream is a Barbadian/UK co-produced film, which is an adaptation of the Shakespeare play A Midsummer Night's Dream. Shot on location at Fustic House in St. Lucy, the film features both local and British talent in front of and behind the camera. It tells the story of four young lovers, a disagreement between a fairy king and queen and five fishers from Six Men's Bay who are to perform the play King Jaja and Becka.
Producer Melissa Simmonds and writer-director Shakirah Bourne spoke to use about the film.

1. What inspired you to make a Bajan film adaptation of A Midsummer Night's Dream?
Melissa Simmonds: I was invited to Fustic House in 2013 by a friend and as I was being given a guided tour of the grounds, I just started to visualise it. Having lived in both countries [Barbados and England] for over 20 years, I knew how the traditional tale could be [re- imagined] here. I also had a theatre company here called The Gale Theatre of London and Barbados and so I was very familiar with the Barbadian actors and I knew how the film could be cast.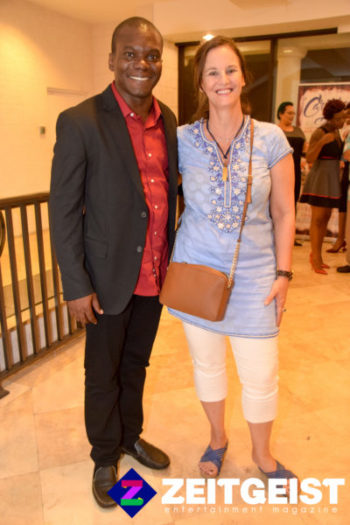 2. Was Shakirah your first choice for writer and director?
MS: Yes Shakirah was my first choice for writer as I had read her collection of short stories and knew her style and vernacular and that she would bring out the humour of the piece perfectly. I think if Shakespeare could look down he would love her screenplay. As a director I was not familiar with her work but then I was a first time producer and I figured as the writer she was [a] good choice as director. This has been a huge learning curve for us all in first time positions but Shakirah has always done what's best for the film and this I respect enormously. Shakirah is a huge talent and a passionate film maker.
3. When you were approached to write and direct A Caribbean Dream, were you hesitant to accept or did you say yes immediately?
Shakirah Bourne: This was the biggest film project I have done to date, and my first as a hired director, so I did have to give it some thought before I committed.
4. What was your approach to adapting A Midsummer Night's Dream into a Bajan film; how did you go about "bajanising" it?
SB: When I was hired, the producer Melissa Simmonds already had the core set of [adaptation] ideas for the movie: the Fustic House location, the idea for the film to be set during [Crop Over], and during a full moon with the fairies being household staff during the day. It was my job to flesh out the script and so I would have brought different ideas on how to make it Bajan. For example, in the original play Bottom is transformed into a donkey, but in the adaptation she is transformed into a sheep. We included some Caribbean Folklore – Papa Bois, Wata Mama etc and then elements of calypso and spouge. Instead of acting the story of Pyramus and Thisbe, the fishermen created a new play "The Untold of Story of King Ja Ja and Young Becka." I don't want to give any more spoilers but basically I tried to keep the essence of the Shakespeare with Barbadian nuances.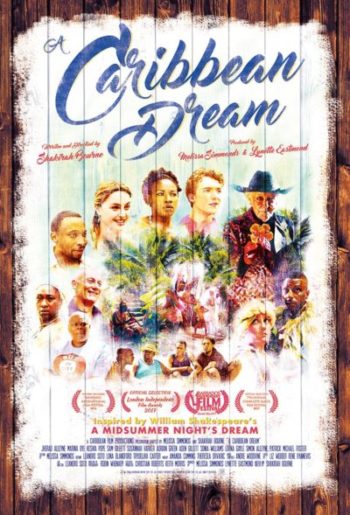 5. What was the most difficult thing about adapting the text?
SB: Understanding the old English lol I actually had to read the English and Shakespeare version of the play.
6. Was the plan always to have this film be a Barbadian-UK co-production? How did that come about?
MS: Yes, always the plan; that's my trademark. I have lived in both countries all [of] my life and I love uniting the talent but only where I feel I have to. At the time I felt it crucial a UK DOP [Director of Photography] and Sound person were involved and then we needed white actors as I could not find the right ones here.
7. What was the budget for the film?
Low budget but not micro budget.
8. How did you go about finding actors for the film; what was the casting process like?
MS: I had them all in mind from long ago and did a workshop for Shakirah very early on so she could see what I was thinking and with the UK ones we filmed and sent her the link for approval.
 SB: Some of the actors were already on board before I was hired. Melissa had worked with Jherad Alleyne, Simon Alleyne, Levi King and many other Bajan actors in theatre, and always knew they were right for the parts. I was in total agreement having worked with them in film. There were Barbadian and UK auditions to fill the rest of the roles, and we had support from Casting Barbados for secondary roles.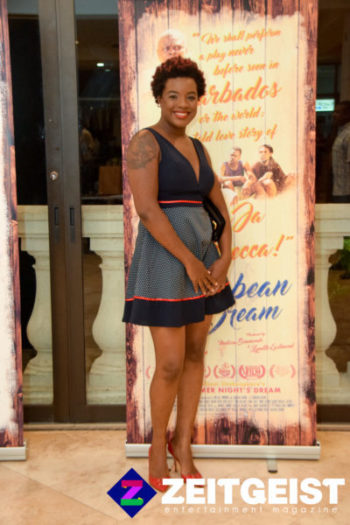 9. As the director, what was your vision for the film and how did you get the best performances from your actors?
SB: Although it was a Shakespeare story and language, I wanted the Barbadian identity to shine through. This is why I instructed actors to make the language their own – think about how you would say the sentence in Bajan – including the sighs, the 'cha', the stupses [Barbadian parlance for sucking one's teeth], the rhythm and the tone, and do that with the Shakespeare. It had [to] sound natural and believable, as if they were born saying "thou" and "art."
10. Why did you decide to have some characters speak Early Modern English and some characters speak Bajan? Why not modernise the language and have the entire cast speak the same way?
MS: Very important to me as a producer to have a combination of both; with this adaptation you have the collaboration of two cultures. The Shakespeare and all [of] the Barbadian folklore, setting and vernacular but no so strong a dialect that it can't be understood around the world. My sole aim as a Producer has been to make something that will sell internationally so we can get the Bajan talent out there!
SB: Initially, I wanted to completely transform the language but when I heard actors speaking the Shakespeare with the Bajan dialect at a workshop, I found it hilarious. Also, having the Shakespearean language serves as an educational tool for students studying the play, where they can learn the speeches and quotes.
The difference in language was also used as a way to highlight the echelons. In the original play, the story was told between royalty and their subjects. This adaptation highlights the happenings of the upper class socialites on the mansion on the hill, and then of the local fishermen relaxing on the beach. In Barbados, the language is always spoken differently depending on the context and situation.
11. Why did you choose to shoot at Fustic House in St. Lucy?
MS: I was led there by the universe and it's a film-maker's paradise.  From the minute I showed it to Shakirah and to Robin Whenary the DOP who [sic] she chose, they both were inspired. It's [a] very inspirational setting. From a practical [POV] it was good too as we could all be under one roof.
SB: Again, this location was on board long before I was. Melissa Simmonds was inspired by Fustic House to do a film adaptation of the play. The architecture designed by Oliver Messel – one of [the] UK's most prominent stage designers of [the] 20th century. On the property, there is a pool and swamp, an Amerindian cave, and grounds for [a] forest, which we all utilised in the movie. It was beautiful and convenient. We only had to leave the location a few times to shoot scenes at the Airport, St Andrew's Church, and Six Men's [Bay].
12. How long did filming take and what was the experience on set like?
MS: We shot in 3 weeks and it was not easy as it's [sic] primarily night shoots. The first night it poured with torrential tropical rain and we all ran for cover under a tiny tent, protecting expensive equipment. I went out the following day to hire a proper canvas marquee for future down pours but it never rained again like that. It did rain of course a bit on and off [throughout] and that was always a challenge for crew but I consider that first night a rain blessing. Many of the female team had worked in film before but never in the roles they had on A Caribbean Dream, so it was a learning curve for us all. That's life. We did it together and we made it happen.
SB: It was approx [sic] 3 weeks of chaotic madness. We shot during Crop Over so we had to deal with noise from nearby parties and bad karaoke. [There] was a lot of rain which delayed shooting and caused equipment failure, even a small earthquake (though we didn't feel it) and [a] tsunami warning. Even on the final day, trying to get shots over drunk revellers at Foreday [M]orning was a challenge.
13. Were there any notable changes made between pre-production, production and post-production?
MS: Yes [during pre-production] our budget jumped hugely and I nearly shelved the film. Post we did lots of pick up shots to fill in the sense of time passing and in post change was constant. You make or break a film in post and I unlocked the film 3 times to get it to where it is now but I am an obsessive and I was lucky to have a director who let me do this but also the circumstances were not normal ones. Shakirah was in Bim [local nickname for Barbados] and I was in [the] UK where post was happening so it was very collaborative and [trans-atlantic] and could not have been made outside [of] the digital age!
SB: Plans were in place for this film to happen for long time. I can't think of any significant changes at the moment.
14. What was your favourite and least favourite thing about working on the film?
MS: None of [it's] been easy for me as I am [a] first time producer. The best thing so far was being nominated for [the] London Indie [A]wards and [the] LA Indie [A]wards and getting into [the] Charlotte Black Film Festival but I won't be happy till [sic] we have sold it and made money otherwise we can't make more films. I loved seeing the cast come alive in their roles and I loved seeing the colour [palette] work with Leandro Soto's superb costumes against the green foliage backdrop of the Fustic [H]ouse grounds.
SB: My favourite thing was being able to work with [a] local and international cast and crew, and being able to stay in a beautiful and magical place like Fustic House.
My least favourite thing would probably be constrictions due to time and budget.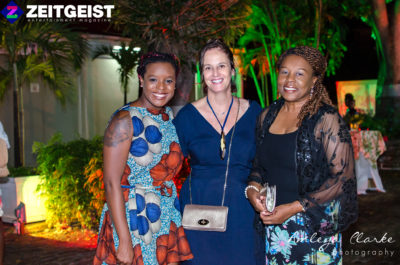 15. What was it like having the film previewed at the Barbados Independent Film Festival?
MS: That was just timing as we were not ready for the BFVA [The Barbados Film and Video Association's Barbados Film and Visual Media Film Festival] and the BIF [Barbados Independent Film Festival] had popped up out of the blue but I am very supportive of Sir Trevor Carmichael as he supported me with the Gale Theatre company. BIF was serendipity but we hope to be screened in the BFVA this year too.
SB: Home drums always beat first for me. It was a gorgeous and new venue, it was sold out, and there was a good response from the audience. I couldn't ask for much more.
16. Where do you think this film stands in relation to all other Barbadian films and what impact do you think it will have on the industry?
MS: I have not seen all [of the] other Barbadian films so I can't answer you honestly. [We] are just glad to be part of the emerging film industry in Barbados and I want to sell it so we can make more. The judge of that will be the festivals and the sales and the audiences. Let's see[.]
SB: The film is of high quality, and very ambitious – being a fantasy and using special effects makeup and costuming. We have a few filmmakers who already experiment with using special effects, and creating films in this genre, but the content is always limited due to budgetary restraints. I'm hoping that the film will inspire even more ambitious films/stories, and that they will have support – both from funding institutions and audiences, to reach the screen.
17. What is your ultimate goal for this film? What do you want audiences to take away from it, particularly Bajan audiences?
MS: To sell it so we can make more films and see the Bajan talent on an international platform. There are some things you can't control and I don't mind what people take away from it…some will love it and some won't but for me it's a small step in embracing each [other's] cultures. When we live in such a racist world with the likes of Trump in power I would hope this film with its mixed race themes reaches out in a positive way.
SB: To continue to show that Barbadians can create world-class content. I want the audience to appreciate the film, and continue to feel the need to tell their own stories and support local filmmakers.
18. What's the next step for A Caribbean Dream?
MS: For Caribbean Film Productions Ltd is the company that made A Caribbean Dream[,] I would like to develop two more films; A Caribbean comedy and A Caribbean Ghost story and then shoot back to back in 2020.
SB: The producers are working on international distribution right now.
19. What's next for you?
MS: Do nothing. Try to earn some money from my other business which I have neglected for three years. Myself and Lynette Eastmond have worked on sweat equity but this is what you do on your first film.
SB: Last year I focused on stage plays, and this year I want to focus on novel writing. In terms of film, I've been in meetings with a few other film producers to discuss future projects, along with my own projects with Bajans In Motion. It's all at the stage where we're seeking funding to move forward.
A Caribbean Dream is currently showing at Limegrove Cinemas and Olympus Theatres until March 7th.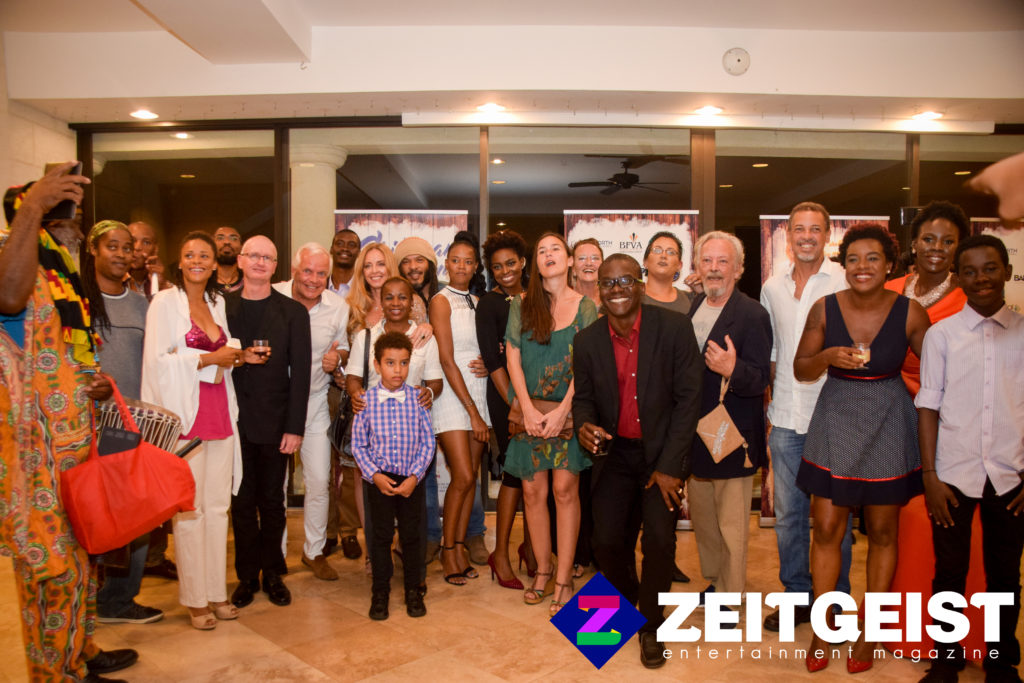 Tell us how can we improve this post?