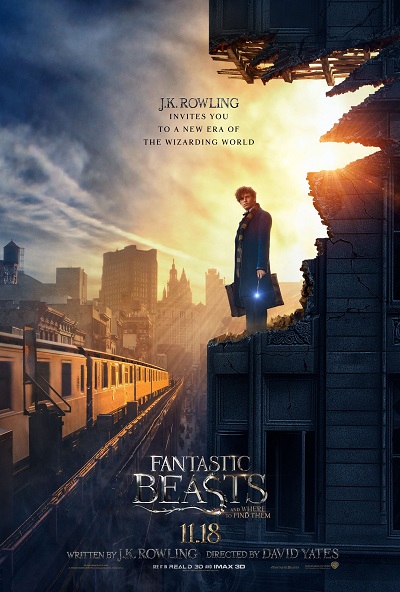 Fantastic Beasts and Where to Find Them is a 2016 film written and produced by J.K. Rowling and directed by David Yates. The ninth film in the Harry Potter franchise and a prequel to the previous eight films, it is inspired by the book of the same name; a text book used by Hogwarts students which was later published in real life. The film stars Eddie Redmayne as Newt Scamander, a British magizoologist who travels to New York City – the home base of the Magical Congress of the United States of America (MACUSA). The organisation is dealing with a crisis which is exacerbating anti-wizard sentiments in the city. When his suitcase is switched with that of No-Maj Jacob Kowalski and some of his magical creatures are set free, he must traverse the streets of New York in an effort to find them.
If you're looking for a Harry Potter nostalgia trip from this movie you're not going to get it. It's a different time period, with different characters and in a different setting. It does not at all feel like the other Harry Potter films. And that's a good thing; it's able to separate itself from them and be it's own thing.
The film is a little different from what the trailers promised it would be. The story as presented in the trailers does happen, but there is another layer to it that is not shown.
The film plays with your expectations a bit. It makes the audience think its going in one direction and then it swerves and goes somewhere else. This is mostly because, like any good magic trick, the film uses misdirection to draw the audience's attention elsewhere and it is effective.
The misdirections are written into the film in way that even with them thrown in, how the film arrives at its revelations still makes sense and, upon reflection, the clues do point in that direction .The film delivers on twists and surprises and they don't feel like they came out of nowhere.
Rowling does pretty well in her screenwriting debut. It's a tight narrative with characters who are fairly well developed. Except perhaps for Queenie who isn't as developed as the other four main leads, but she has less of a presence in the film than they do so calling her a lead would be a bit of a stretch.
The four lead actors had very good chemistry. Their characters' relations and interactions with each other were convincing. All of the actors performed very well.
Redmayne did his quirky little Eddie Redmayne-isms that anyone who has seen a fair number of the films he has been in would recognise. Newt Scamander had a charm and empathetic and nurturing nature that Redymayne was able to embody and portray expertly. Scamander is in some ways reminiscent of Hagrid in that the two share a love, affinity and sympathy for magical beasts.
The most relatable character is Kowalski, likely because he is the only No-Maj in the group. He is by far the funniest character – definitely the comic relief – and is very, very likable. Scamander even tells him that he is. Dan Fogler does an amazing job of bringing the character to life and enduing Kowalski with that same likability.
The film on the whole is more humorous than one would expect.
The final battle isn't much of a "battle" and the "beast" that is wreaking havoc in New York City is quickly dispatched. Then something else happens that looks like there will be an epic final battle after all, but that is resolved quickly as well. The ending is quite anti-climatic.
Given who Grindelwald is (he was Voldemort before Tom Riddle was Voldermort), how he was portrayed in the film was disappointing. As a figure with a reputation as a great dark wizard who did terrible things and was this enormous threat, he wasn't exactly presented that way.
He was a threat to the wizard community by way of risking their exposure and he was a dick to one character in particular, but he didn't do anything as sinister or evil as Voldermort. Not even a little. He was not as fearsome as Deathly Hallows – and the books – would have the audience believe. By the time of the events of the film he has already developed that reputation so it's not like it was the beginning of his rise to power and he was only now building toward his true evil-ness.
How he was used in the film was unexpected, however, and he has a much larger role and presence than fans would have presumed.
Fantastic Beasts and Where to Find Them is interesting and entertaining. The film succeeds in holding your attention and although slow in some parts, is still fun and enjoyable. It's not as thrilling as some of the other films in the franchise, but it does hold its own and is a good film that is well suited to multiple viewings. It is a worthy addition to the Potterverse.
Tell us how can we improve this post?