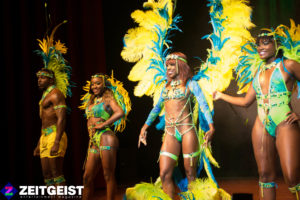 Eunoia is one of the new Kadooment bands emerging on the scene this year, and as such, has a lot to prove – as well as establish – in terms of its brand and its identity. Certainly, hosting their band launch at the prestigious Frank Collymore Hall – an avenue more associated with the fine arts and "high brow" entertainment – was a move meant to immediately and clearly separate them from other Kadooment bands. It definitely lent the band a particular image.
Perhaps due to the chosen location, Eunoia's band launch was more than just a costume showcase…it was an entire production; an amazing, spectacular production. It had a bit of a false start when there was a long, awkward pause with the opening number, but when it really started it did so in earnest.
There were dance interludes in between every costume section, each one with a different style and aesthetic, with brilliantly choreographed numbers that the dancers skillfully executed. Each one was preceded by a dramatic narration that fit the band's theme for this year.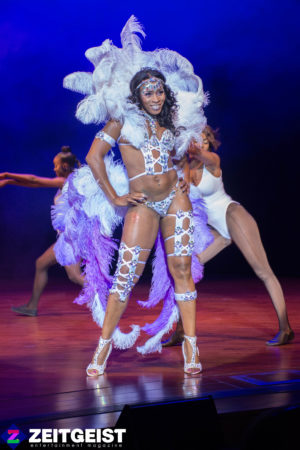 Eunoia's models had the best of Krave and Kontact's models; they could dance (they did very well with the choreography; they made it look effortless and easy) and they could model. The first model of the night, in the Oneiros section, set the bar quite high with her dynamic performance on stage and the remaining models more than met the challenge and matched her energy. They were clearly well trained and rehearsed. These models were exceptional. The audience responded to them enthusiastically, especially the full figured – or "fiercely real", as Tyra Banks would say – models.
The costumes in this band are phenomenal. Not since Krave's launch had I been so excited by costumes from the moment that I saw them. The designers did incredible jobs in creating them. Standout sections in this band are Polemos (Wartime), Kalokairi (Summertime) and Imisy (Halftime).
Polemos has pants in the female and male frontline sections! Xhosa choose to include joggers for a few of their male costumes and Eunoia essentially went "hold my beer." Eunoia may only have pants in one of their sections, but the pants they do have look really, really good. The pants for the male frontline look to be really tight – which wouldn't allow for much of a range of movement and be conducive to aggressive whining when on Spring Garden Highway – and the ones on the female frontline don't look like they're made from a breathable fabric and would make the wearer overheat, but this is another instance of fashion over practicality. Because these pants look damn good.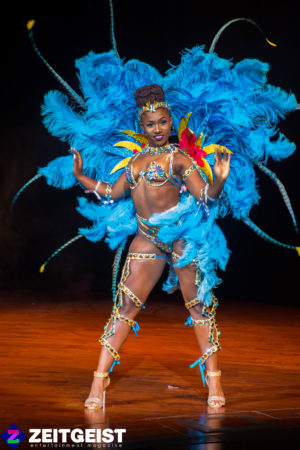 Kalokairi just embodies its name in that it looks like a beach and what is the quintessential summer time activity if it isn't spending the day at one? Aside from that, it just captures the spirit of summer. The blue used in the costume is gorgeous and the yellow and red compliment it beautifully. Colour is also what makes Imisy special. It employs a captivating shade of red that is contrasted nicely with the blue, white and ivory. Furthermore its female ultra costume is impeccably designed and the print on the male frontline shorts is striking.
Eunoia delivered a stellar band launch for their first year as a Kadooment band. They came roaring out of the gate determined to show the world who they are and what they can do. They set an incredibly high standard for themselves that they can hopefully match – or better yet, exceed – in the future. They didn't come to play, they came to slay and in the process proved themselves to be a band to watch.
Watch our highlight reel below and head over to our Facebook page for photos. Follow us there and on Instagram for more!
Tell us how can we improve this post?