Deepwater Horizon is a 2016 biographical disaster film starring Mark Wahlberg, Kate Hudson, Kurt Russell, Gina Rodriguez, John Malkovich and Dylan O'Brien. The film is based on the Deepwater Horizon oil rig explosion and oil spill in the Gulf of Mexico that occurred in 2010 and Deepwater Horizon's Final Hours; an article written about the tragedy in the New York Times.  It was written by  Matthew Michael Carnahan and directed by Peter Berg.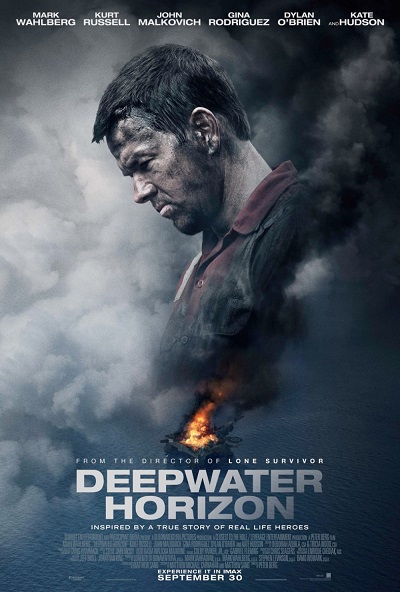 The story and plot of this movie are very simple and straightforward. There are no major side stories or subplots; or any at all really. All that's given is the explosion and the events that led to it. But it is stunningly effective in it's simplicity. There is nothing to distract from the core of the film, which really helps in maintaining the tension that is felt throughout because the plot doesn't halt for a moment to focus on something else. The linear plot truly helps in establishing the cause and effect chain that resulted in the disaster.
There are two instances of foreshadowing in the beginning of the film that are cleverly inserted. A little obvious, but still clever.
This movie is intense.
It's based on a true story so you know what's going to happen, but it still manages to build an immense amount of suspense and tension that hardly lets up throughout the movie. In fact, it only gets more tense as the movie goes on. Every little moment, decision and action just adds to it, because you know what's coming and you're seeing how and why it's going to happen (which is frustrating because it was completely preventable and you will blame one particular character for all of it).
It's not exactly non-stop action, but it has that same kind of heart pounding intensity that leaves you breathless and enraptured. It hooks you in and does not let go.
The movie is a little slow in the beginning. It takes the time to establish the relationship between the workers on the rig and demonstrate how they're all one big family. It goes a long way in serving the rest of the movie. The pacing does gradually pick up but you don't notice it and the movie feels a lot shorter than it actually is. And that's not a bad thing. It comes down to how very captivating the movie is.
The acting is very good. Kate Hudson's southern accent is…questionable…but overall the cast delivers competent performances. None of them outshines the other and they lend a degree of authenticity to the characters that allows you to see who they're portraying and not the actor themselves. Which is especially important in a biographical film.
The explosion itself is spectacular in the most horrifying way. Even though you know it's coming, you're not prepared when it happens. You can't prepare for something of that magnitude.
Deepwater Horizon is an amazing film. Everything about it came together so harmoniously – and damn near perfectly – to actualise a film that is affective and cathartic (in the Aristotelian sense). It is truly an experience and definitely a film worth watching over and over again.
Tell us how can we improve this post?