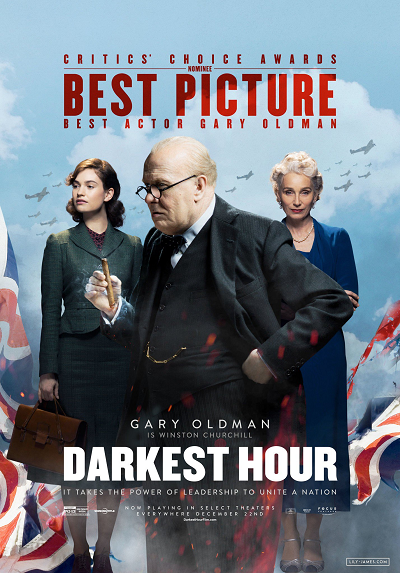 Darkest Hour is a 2017 film about the early days in Winston Churchill's run as Prime Minister of the United Kingdom during World War II, as Adolf Hitler closed in on England. Written by Anthony McCarten and directed by Joe Wright, the film stars Gary Oldman, Kristin Scott Thomas, Lily James, Ben Mendelsohn, Stephen Dillane and Ronald Pickup.
This is a film worth watching for the performances. The acting here is wonderful, even from the actors with little to do and who don't show up much; Kristin Scott Thomas and Lily James especially. The stand out, of course, is Gary Oldman, who superbly played Winston Churchill. He disappeared in the role, and not because of the extensive make-up. He fully became the character, right down to his manner of speech and small gestures that he did. Oldman was not only captivating during Churchill's dramatic speeches, but in his quieter moments as well.
This film really worked to humanise Churchill as a character within its narrative. He was definitely an old curmudgeon who is frustratingly stubborn and undeniably ruthless. However, his relationship with his wife and with his secretary are the points at which he is seen as much more than that.
The chemistry between between Oldman and Thomas is very sweet. You buy that they are a couple that has been married for decades and have a deep love, affection and respect for each other. You certainly get the sense that she is the strong woman behind the man without whom he would have never gotten where he did and that she is his rock. They have a beautiful relationship and she softens him a great deal.
James kind of serves as the audience surrogate, but she doesn't have much of the presence in the film to begin with, nor does she do much of anything. Honestly, had she cut from the film entirely it would have been the same. She does work to humanise him, but his wife already does that.
The cinematography here is stunning. The film is an absolute visual feast. The lighting especially is very dramatic and evocative. Particularly during the War Cabinet meetings, in which Churchill literally has a spotlight shone on him (that is meant to be the natural light coming from a window). The framing, specifically the use of frames within frames, work well to communicate not only the emotion of the scene, but that of Churchill himself in key dramatic moments.
The film is quite slow and boring in parts, but really compelling and captivating in others (like when Churchill delivers his speeches, for example, which he does quite a bit). The conflict wasn't very strong. The thrust of it was between Churchill and Chamberlain and Halifax, who want to push Churchill out as Prime Minster, but they never feel like a threat. Perhaps because we know how things will turn out. On the flip side of that, despite knowing what will happen, the film does a very good job of creating tension. You still fear that Churchill's approach could fail.
There is one scene near the end of the film that is awfully contrived and emotionally manipulative. It's supposed to come off as heartwarming and, again, humanise Churchill, but it is immediately followed by a sequence in which he embellishes the truth of what happened there in order to manipulate the War Cabinet and Parliament into doing what he wants. The juxtaposition of the two soured the schmaltz of the preceding scene.
Darkest Hour is a well put together film. It can be a little boring, but when it draws you in it really hooks you. The acting and cinematography are by far the best parts of it. A spiritual companion piece to Christopher Nolan's Dunkirk, it doesn't have much in the way of story and plot, but should certainly be of interest to those who like biographical and historical films.
Tell us how can we improve this post?