Combermere School delivered a truly spectacular showing with last Saturday, April 8th's Combermere School Phoenix Runway; the finale of their model search, which took place on the school's grounds. All of the contestants performed superbly and were absolutely fantastic. They were very well trained and it was obvious that a lot of hard work was put into the production, from the contestants themselves to the organisation of the show. Everyone involved in the competition deserves a thunderous round of applause.
The opening runway was impressive, to say the least. The contestants looked confident (if there were any nerves there, they didn't show at all) and ready to – to use popular parlance that is a very accurate expression in this case – "slay." And slay they did.
There were five segments in the show; Ice Phoenix, featuring designs by Shana Boyce, Resort Wear designed by Alice Bailey, Street Wear designed by Cassandra Francois, Personal Style and Formal Wear. The designs for all of the segments were exquisite and the show really felt like a legitimate fashion show and not a pageant masquerading as one. The fact that real fashion designers provided entire lines to be worn and modeled by the contestants aided in that.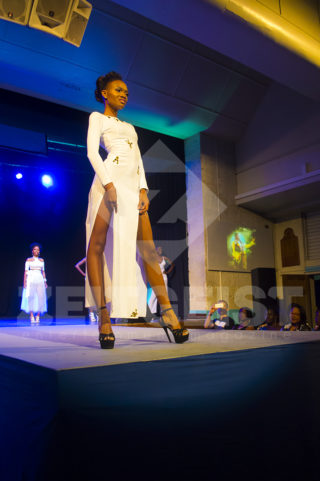 Competition was fierce from the beginning and the excellence with which the contestants demonstrated their abilities made it a hard one to call. However, Amber Williams and Ka-Neil Gale quickly emerged as the ones to beat, as did Jonathan Corbin Blackman and Kobia Hamlin. Amber and Ka-Neil had the model attitude and swagger the start. By the Street Wear segment, Kristi White and Alex Chandler also proved themselves to be be serious contenders. But there could only be one King and one Queen at the end of the night.
No surprise to anyone in attendance, Jonathan Corbin Blackman was crowned Mr. Phoenix Runway 2017. What may have come as a shock to some, though not to others, was that Kristi White was crowned Ms. Phoenix Runway 2017. Jonathan also won Most Photogenic. Kobia Hamlin, who had the loudest reception from the crowd thanks to his dedicated cheer section, won first runner up along with Ka-Neil Gale. Nikolas Wright and Kianna Gittens were the second runners up.
Startlingly, one of the best competitors of the night, Amber Williams, did not place. She did, however, take home the prize for Most Photogenic. The contestants' pre-judging scores, which were brought forward and added to the scores that they had for the night, likely accounts for why Amber did not have a place in the top three like she should have. In fact, given that Ka-Neil took second place, I expected Amber to win.
In between segments there were performances by Dayna P. Taylor-Lavine who sang "I Look To You" by Whitney Houston with little challenge (an extraordinary feat considering that it was a Whitney Houston song; Taylor Levine was at no point pitchy or off key), saxophonist Romario Wilkinson, steel pannist Mark Forde, the band 33 PM and soca artiste Mikey, who gave an electrifying and thrilling performance despite some technical difficulties. So much so in fact, that the contestants joined him on stage for a quick dance a few times.
There were also a few giveaways, one of which was a walk-off between two women from the crows; Sherliza Griffith (who was a contestant in The Lodge School's model search) and a young woman by the name of Charlene. The winner was decided by crowd reaction and Griffith's victory was undoubtedly secured by Lodge School Model Search winner Kaila Bovell Lewis, who stood from within the crowd and cheered her loudest.
Here is the full list of winners:
Most Photogenic (Male): Jonathan Corbin Blackman
Most Photogenic (Female): Amber Williams
Phoenix Spirit (Voted on by the contestants): Alex Chandler
Most Improved (Male): Kobia Hamlin
Most Improved (Female): Sharhea Bourne
Photoshoot Challenge Winner (Male): Alex Chandler
Photoshoot Challenge Winner (Female): Ka-Neil Gale
2nd Runner Up (Male): Nikolas Wright
2nd Runner Up (Female): Kianna Gittens
1st Runner Up (Male): Kobia Hamlin
1st Runner Up (Female): Ka-Neil Gale
Mr. Phoenix Runway 2017: Jonathan Corbin Blackman
Ms. Phoenix Runway 2017: Kristi White
Visit our Facebook page for a full album from the event.
Tell us how can we improve this post?