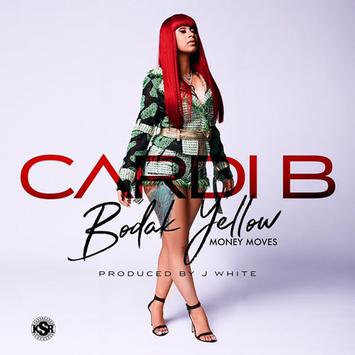 From climbing the pole to climbing the Billboard charts, Cardi B has been killing it on the hip-hop scene with her record-breaking smash hit "Bodak Yellow."
The former stripper and Love & Hip Hop star is fresh to the music scene. She made her debut as a featured artist on Shaggy's remix to the hit single "Boom Boom" alongside Popcaan in 2015. Since then she's released two mixtapes. "Bodak Yellow", her first commercial single, landed her the #1 slot on the Billboard Top 100. Making her the first female rapper to land the #1 spot on the charts without a feature in 19 years. But is Bodak Yellow as hype as they say?
Spoiler alert: Yes.
The song, which heavily samples Kodak Black's 2015 song "No Flockin", has Cardi bringing her own spin and charm on board.
The J White produced beat resonates well with any trap head whilst also being catchy enough for the casual music listener. The almost futuristic feel from the modern sounds in the beat, in collaboration with Cardi's progressively intensifying flow, leaves you in a seemingly never-ending head bopping state.
However, the song may find fault amongst "true hip-hop" fans. Admittedly it does have a very simple rhyming scheme and it,  just like every modern rap song, is primarily about money. But if that's your main complaint, then music from the past decade isn't for you.
One concern about the song though, is if it deserves this phenomenal record-breaking spot at number one. Which makes for an interesting argument. This is by no means the most thought-provoking song currently on the Hot 100. Some would argue that it's the HOT 100 and not the thought-provoking 100, which is totally fair. Whilst, as I said earlier, the lyrics aren't exactly the most stimulating, the delivery is amazing. You really feel her all in it.
Let's address the elephant in the room.
Nicki Minaj didn't break this record. Lil Kim didn't break this record. Cardi B with her first commercial song was the first female rap artist to reach the top of the Billboard charts in 19 years. Is this to say she's the best female rapper in the last two decades? No, but she has that formula down for this current state of music.
To summarize, the song is FYAH!!! Banging beat! Stoopid flow!!! With a chorus catchy enough to win pretty much anyone. Though the lyrics leave a lot to be desired the song was just delivered so well it just gives you that trap motivation to have you singing.
Tell us how can we improve this post?