Blair Witch­ is the 2016 direct sequel to the classic and revolutionary 1999 found footage horror film The Blair Witch Project. Written by Simon Barrett and directed by Adam Wingard, the film follows James Donahue – brother of Heather Donahue from the first film – his friends, a film student and two guides, who make their way into the infamous Black Hills Forest in search of Heather. The film stars James Allen McCune, Callie Hernandez, Brandon Scott, Corbin Reid, Wes Robinson and Valorie Curry.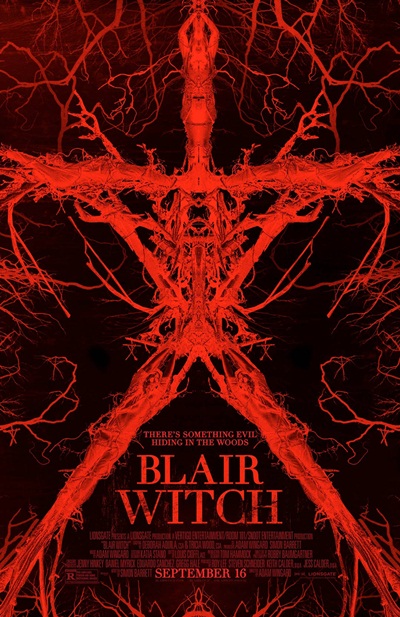 The majority of this film is a boring, uninteresting trod through nothing. It is such a slow build. That only really pays off in the last half hour, or perhaps less. It's an hour and twenty-nine minutes long. Which means you have to wait an hour until anything worthwhile happens.
It would be a bit of a stretch to say that the snail pace build-up was worth it. But it did really demonstrate the psychological – and in some instances physical – deterioration of the characters.
Speaking of the characters; they're totally forgettable. None of them stand out. They're all fairly dull and flat. You don't care about them at all.
The only real amusing thing concerning them was trying to guess who would die first. Three of the characters either had something done to them or did something that in a horror movie would mean that they will be the first to die or that that something would at least get them killed.
And those three things do pay off later.
Despite the lack of connectedness with the characters, the acting was pretty good. The performances were believable.
One technique the filmmakers used that led nowhere; lingering shots.
It's a horror movie. If the camera focuses on something for a little too long then the audience assumes that something is about to happen; something that was camouflaged suddenly moves in the frame, something comes into frame, a jump scare even. But nothing happens.
The filmmakers do succeed in stimulating a sense of dread however.
It's particularly frustrating when in one sequence in the middle of the film, it returns to a specific shot multiple times and every time it does the dread builds until the sequence is over and nothing came from it.
It's a tease in the worst way.
And speaking of jump scares.
There are a lot. And they aren't even effective. Being startled and being afraid are not the same thing. And these jump scares aren't startling. At one point, following a jump scare, a character even says; "Will everyone stop doing that?" And that is exactly how it feels by that point.
When the film does pick up though, it's immediate. It's enthralling and you can't take your eyes off the screen; as much as you may want now that things have gotten unnerving and creepy. Not outright scary but enough to make you watch from between your fingers.
Blair Witch is okay. It does somethings right, it does more things not so great. The pacing is far too slow, it takes too long to get to the actually decent part of the film, the characters are "blah", there are too many jump scares and the filmmakers employ a technique for seemingly no reason. But the acting is serviceable and when you do get to the actually good part of the film you almost forget how bored you were in the beginning.
Tell us how can we improve this post?