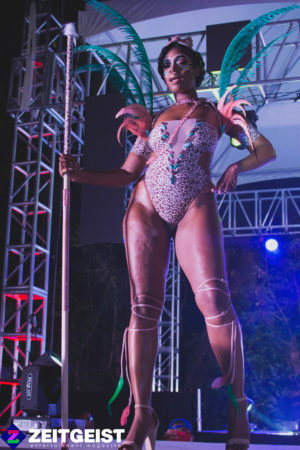 The prolific Kadooment band, Baje International, is celebrating twenty years on the road. As such, the theme for this year is Odyssey; a word that entered the English lexicon thanks to the epic poem attributed to Homer, The Odyssey, and fittingly has come to mean "a long and eventful or adventurous journey or experience" (Oxford Dictionary). Baje's journey thus far may be twice as long as Odysseus' – the titular character in Homer's piece – and has not yet reached its end, but it is no less iconic.
There was no choreography like with most other costume showcases at band launches. Here it was a fashion show more than anything. The models came out, strut their stuff and left. This was another Kadooment costume presentation that give me major Victoria's Secret Fashion Show vibes. A lot of that had to do with the models. The models used were clearly professional; there was an obvious skill and expertise in how they modelled. They were lively, they were fierce, they had sex appeal. At least this was the case with the female models (although one of them, the Animaniaks monokini model, had no energy and looked like she didn't want to be there).
As for the male models…What is it with male models in band launches? It's like the majority of them always look bored and disinterested and like they're not putting in any effort. Such was the case with the male models in Odyssey, Collage of Time and Flashing Lights. It's kind of annoying how male models at band launches tend to be so nonchalant and underperform. Their female colleagues put their best foot forward and the male models just show up like glorified props. It's also, in some ways, disrespectful to patrons. We're there for the show and they seemingly can't be bothered to put one on for us. We'll get back to disrespect later.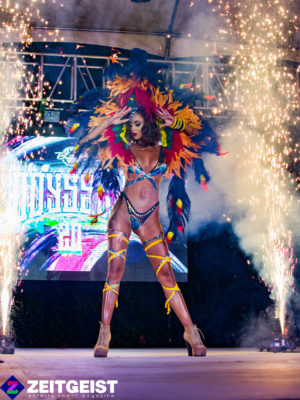 As I expected they would, Baje put themselves right up there with Krave and Eunoia for me when it came to their costumes. Like I've said before, I never paid attention to Crop Over or the costume before this year, but I do know Baje by reputation so I had pretty high expectations for their costumes. I'd say they were just about met.
The costume that stands out the most is Odyssey. It is stunning with its tropical flower motif, vibrant colours, sensually designed "wrapkini" (as it was dubbed on the website) and the ever present "XX" design (roman numerals for twenty which show up in almost every costume in some way) on the leg straps. The costume also invokes colourful, tropical birds like the parrot. Not just with its colours, but particularly in the design of the peak of the headdress, which resembles a beak. The male costume looks pretty bland next to the female costumes, though; it's simply a shorts, a cap and a necklace.
I don't see how the design of the costume fits in with the section name, nor do I see it with Flashing Lights, Mega Monday or Baje XX. But I assume that that is because I am unfamiliar with the history of Baje International. The section names, along with their descriptions, do reflect the idea of a journey through that history and tie the whole thing together nicely. The costumes in those sections are beautiful, especially Mega Monday with its dreamcatcher concept.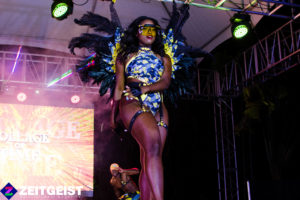 The visors and harnesses on Collage of Time really make the female costumes in that section. The harness looks a little weird on the male costume. It's kind of just there? But it is a very masculine spin on the same accessory from the female costumes. The harnesses truly make the female costumes sexy and add a special something. The print is lovely as well and captures the idea of "collage."
Animaniaks, Kohinoor and Fly are pretty straight forward. When you look at them you see how they represent their sections names.
Animaniaks embodies its theme with the leopard print, fur accessories (the fur strap on the male costumes is awkward and it's not going to stay on, if it's put on in the first place) and green feathers that mimic foliage. The Vida Queen costume is spectacular. The sash, though, feels like a last minute add-on. As Coco Chanel said: "Before you leave the house, look in the mirror and take at least one thing off." The sash would be that thing.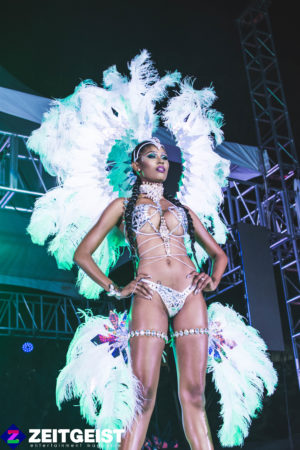 Kohinoor is the name of one of the world's largest cut diamonds that is part of the British Crown Jewels and you see that "diamond" theme throughout. It's white, and it's sparkly. Fly looks like a clear blue sky, on a sunny day with the most striking rainbow you've ever seen. The feathers on the headdress even make it look like Hermes' – the messenger of the gods in Greek mythology – winged helmet. Which is very appropriate for a section with this particular theme.
Now back to the topic of disrespect. With the exception of Eunioa and Xhosa, not a single band launch that I have been to has started on time. Given that patrons don't show up in full force until two or three hours later (which the bands know), I haven't minded. So when I showed up "on time" and the venue was still being set up and I was told that the doors weren't open yet, I didn't really care. However, when staff at the event shows blatant disregard for the start time that was advertised, I have a problem.
As I waited for Baje's band launch to start, I happened to witness an exchange between a patron – who was media – and one of the staff working the box office. It was almost an hour past the advertised start time and the media person was, understandably, disgruntled that the event had not started yet. The member of staff then said to the media person something to the effect of: "Just because it says it will start at seven doesn'tt mean that it will start at seven." It wasn't just what the member of staff said that was problematic, it was the angry, annoyed tone in which she said it.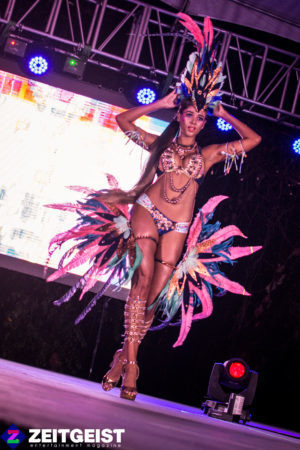 Not only was this lady rude, she was unprofessional and disrespectful. That was no way to speak to a patron, even if they were media. The correct, mannerly response would have been to apologise to the patron for the delayed start in the proceedings. Not only did she make herself look bad, she made Baje look bad. Her conduct reflected very, very, poorly on the band. That being said, I do not take her behaviour to be representative of Baje themselves.
To add insult to injury, a-hole media personnel had to be dealt with. Well before the costume presentation started, camera persons formed a line at the front of stage with everyone positioned in a way that no one would block or cross anyone else. Then not one, but two other camera people disregarded the line and set up tripods right in front of three of the camera persons who had already been there. One of them being me. In the middle of the showcase one more a-hole camera person decided to block people as well. One would think that as camera persons they would know better, be more considerate and be more respectful towards other camera persons. This happened at Krave as well. These incidents did not spoil the night for me, however.
Watch our highlight reel below and head over to our Facebook page for photos. Follow us there and on Instagram for more!
Tell us how can we improve this post?