This year's Animekon was the best I have ever been to; and I've been going to Animekon every year since it started. It was the best because, in order to write this, I had to go to every contest, competition and panel. I essentially lived in the Quantum Keep that entire weekend and this was the first year I actually did go to everything and not sit behind a booth all weekend.
And I'm glad I was obligated to because I thoroughly enjoyed everything that I attended.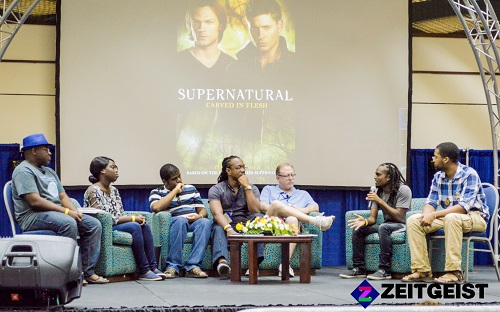 If I had to choose my least favourite thing about the convention this year, it would be Tim Waggoner's panels. That is not to say that they were bad or boring. They were quite enjoyable and informative. I had never heard about him before he was announced as a guest for Animekon and it was nice hearing about his experiences as writer, especially one who writes tie-in novels for two TV series that I'm a huge fan of.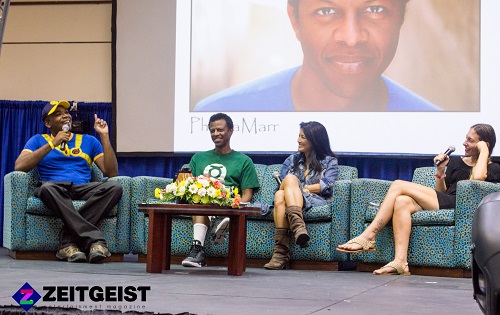 It was just that he didn't have as much personality as Kelly Hu and Phil LaMarr, whose panels and Q & A were hands down, no doubt about it, the highlights of the convention. The two of them are incredibly hilarious. Kelly Hu and Phil LaMarr are tied for "Best of Show." Their crowd was receptive, engaged and definitely contributed to why their panels were great.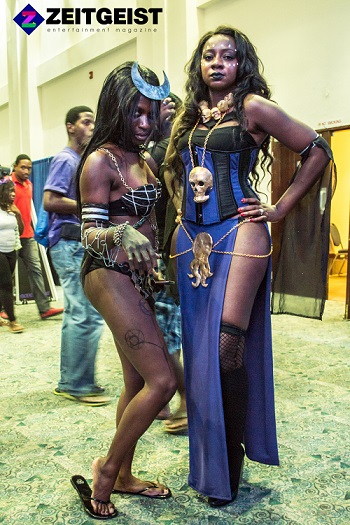 Maki Roll and Princess Mentality Cosplay were very entertaining as well. I didn't get to see the entirety of their 28 Days of Black Cosplay panel, but from what little I was able to watch, it was interesting hearing about how different their experiences as Black cosplayers in the United States was from the general experience of Black cosplayers in Barbados.
I've seen the stories about it online and witnessed the racism and harassment on the social media pages of Black cosplayers, and in that regard there is not much of a difference. But it was a surprise hearing how their in person experiences are so different from those of Barbadian cosplayers.
The Kamehameha competition was rousing. I didn't really expect it to be because as I said, I never actually went to anything at Animekon before this year. And I do not regret my attendance. Fil and Son Gohan absolutely stole the show.
It was quite funny and again, the crowd was part of what made it fun. There was so much energy, enthusiasm and excitement from the crowd and I could not help but get swept up in it.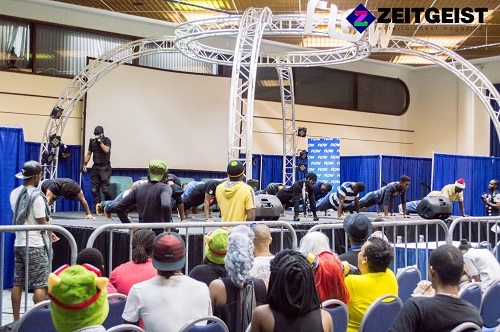 The same can be said of the Sally Up Push Up Competition. Who would have thought that a bunch of guys doing push ups on a stage could have been so thrilling?
But it really, truly is the crowd that drives the experience of what's going on, on stage at Animekon.
It was fascinating that each of the guests spoke about diversity in the geek sphere. Maki Roll and Princess Mentality Cosplay specifically had two panels about it as it related to cosplay, but Kelly Hu and Phil LaMarr touched on it briefly in their panels as relates to pop culture media.
I found it interesting that in the year when three out of the four guests were people of colour, that diversity seemed to be the unofficial theme of the convention. And it was nice to have two people of colour who are very successful in the American entertainment industry – which is infamous for its lack of diversity – be there.
My only gripes were there was no free Wi-Fi, I was looking forward to seeing Once Upon a Time in Ichirouganaim and unfortunately it wasn't screened, the Quantum Keep was super cold (I was not prepared!), D-Piddy didn't come (best wishes dude) and I really don't like the seating arrangements in the cafeteria.
I'd rather several small tables that seat around three to five people than a few large tables that seat seven to ten. It lends itself to awkward situations.
You or you and your friends go to this giant table where only one person is sitting and you sit there and never engage with this other person. Or perhaps even worse yet, you and your group of friends sit at a table with one or two other groups and the groups don't interact.
Also it's too small for the kind of numbers Animekon sees.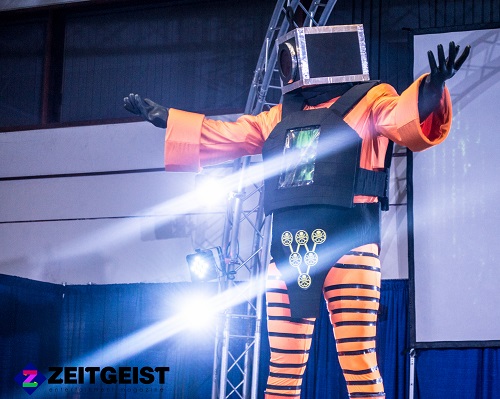 I was a little disappointed with the cosplay competition. I did not get to see the entire thing because I was interviewing Kelly Hu and Phil LaMarr, and only got back during the second half of contestant #5's performance. I heard Daniel Fitzwilliam's performance was amazing and I wish I had seen it.
I understand that some of the costumes were fairly restrictive and didn't allow for much movement, but from what I did see a lot of the contestants didn't do much of anything and they didn't really utilise the stage and therefore didn't have much of a performance. For some of them it felt as if they had not prepared anything and didn't know what they were going to do when they got on stage.
The costumes themselves however, were amazing and I am really impressed with how far Barbadian cosplayers have come in the very short period of time that cosplay has been practised here.
Overall Animekon was exciting, entertaining, exhilarating and exhausting. But exhausting in a good way; a satisfied kind of exhaustion where you feel like you accomplished something or did something worthwhile.
You can head over to our Facebook page to see more of our photos from Animekon and visit our YouTube channel for our interviews with Kelly Hu, Phil LaMarr, Maki Roll and Princess Mentality Cosplay.
Tell us how can we improve this post?