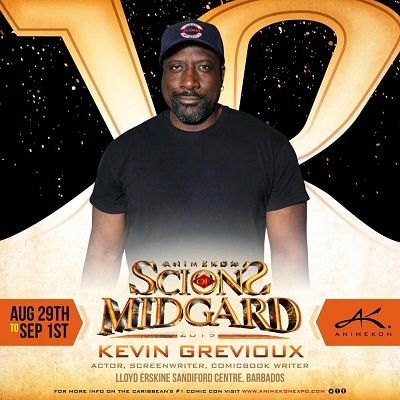 The countdown is on for AnimeKon X: Scions of Midgard. Billed as "the Eastern Caribbean's BEST pop-culture convention" as its commencement approaches – in just twenty-two days – Kevin Grevioux was today announced as the third featured guest attending.
He is best known as an actor for his role as Raze in the Underworld series of films. He has also appeared in The Mask, Batman Forever, Steel, The Flintstones in Viva Rock Vegas, Planet of the Apes, Men in Black II, Cradle 2 The Grave, Hulk, and I, Frankenstein. He also proved the voice for Black Beetle in Young Justice: Invasion, Super Skrull in Hulk and the Agents of S.M.A.S.H. and Terrax in The Avengers: Earth's Mightiest Heroes.
Grevioux is also a screenwriter and comic book writer.
He is a co-creator of the Underworld film franchise, having co-written the original screenplay and is the creator and writer of the upcoming Jekyll and Hyde Detective Agency and Viewers.
He wrote the comic book from which 2014's I, Frankenstein is based and the comic book adaptations of Underworld, Underworld: Rise of the Lycans and Underworld: Bloodwars. All of which were published through his comic imprint, DarkStorm Studios. He also established another imprint called Astounding Studios.
Grevioux has written for both Marvel and DC Comics.
He wrote Adam: Legend of the Blue Beetle, issues of Fear Itself: The Home Front, New Warriors, The Amazing Spider-Man, Marvel Universe, What If? Civil War, What If? Secret Invasion and Young Avengers Presents for Marvel. At DC he wrote issues of Cyborg (2016), The Odyssey of the Amazons, the German reprint of Batman: The Return and Batman 80-Page Giant (2010).
Other comics he has written include Alvis Rex, Valkyries, ZMD: Zombies of Mass Destruction, Toy Box, The Phantom, The Hammer Kid, Guardian Heroes, Mandrake the Magician, Skull and Guns and Uzan, The Mighty.
Learn more about Grevioux on his guest page on AnimeKon's website.
Tickets for AnimeKon X: Scions of Midgard are on sale now and can be purchased online from Ticket Pal or from these locations:
A&B Music – Sheraton Centre
BCSL – Lloyd Erskine Sandiford
Carlton Supermarket – Black Rock
Cave Shepherd – Broad Street
CS Pharmacy – Bridgetown
Digicel – Sky Mall
Emerald City – Six Roads
Heroes Gamer's Lounge – Belleville
Indigo Stationery & Gifts – Black Rock
Komik Kraze – Sheraton Centre
Lucky Horseshoe – Bagatelle
Lucky Horseshoe – Warrens
Lucky Horseshoe – Worthing
NU Look – Bridgetown
Origin – Limegrove
Rubis Service Station – Wildey
Sol – Redmans
Ticket Centre – Warrens
Watch the AnimeKon IX: World of Wonder After Movie below:
Tell us how can we improve this post?