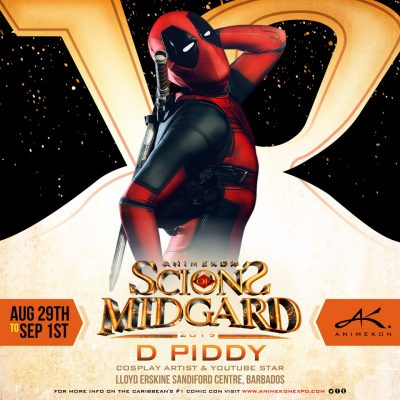 The internet's favourite Deadpool cosplayer, D-Piddy, is making his return to AnimeKon. The announcement was made this morning on the Barbadian pop-culture convention's Facebook page. AnimeKon fans who've been eagerly awaiting his return can now rejoice.
D Piddy made his first appearance at AnimeKon five years ago at AnimeKon V: The Empire Rises. He was scheduled to return two years later for AnimeKon VII: Quantum Age, but his appearance was unfortunately cancelled the day before the convention due to circumstances outside of his and the convention's control.
D Piddy continues to produce his "Deadpool vs" convention videos and has expanded his content to include a secondary YouTube Channel and he is now on Twitch. His original YouTube channel has amassed 1.1 million subscribers. He has also worked with Marvel, 20th Century Fox, FUNimation, Bandai Namco Entertainment, UNIQLO and others.
Learn more about D Piddy on his guest page on AnimeKon's website.
Tickets for AnimeKon X: Scions of Midgard are on sale now and can be purchased online from Ticket Pal or from these locations:
A&B Music – Sheraton Centre
BCSL – Lloyd Erskine Sandiford
Carlton Supermarket – Black Rock
Cave Shepherd – Broad Street
CS Pharmacy – Bridgetown
Digicel – Sky Mall
Emerald City – Six Roads
Heroes Gamer's Lounge – Belleville
Indigo Stationery & Gifts – Black Rock
Komik Kraze – Sheraton Centre
Lucky Horseshoe – Bagatelle
Lucky Horseshoe – Warrens
Lucky Horseshoe – Worthing
NU Look – Bridgetown
Origin – Limegrove
Rubis Service Station – Wildey
Sol – Redmans
Ticket Centre – Warrens
Watch the AnimeKon IX: World of Wonder After Movie below:
Tell us how can we improve this post?