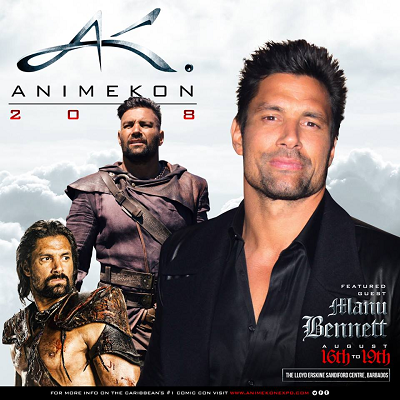 If you're a fan of The CW's Arrow or Starz's  Spartacus or Warner Bros'. blockbuster  The Hobbit trilogy or MTV/Spikes's The Shannara Chronicles or all four, then you're going to love the first guest announced for AnimeKon IX: World of Wonder. None other than Kiwi actor Manu Bennett, who played Slade, Crixus, Azog the Defiler and Allanon the Warlock Lord in the aforementioned series and films, will be making his AnimeKon debut when the ninth iteration of the convention is held this August 16th – 19th.
One of the highest profile persons to guest at the convention, his inclusion in this year's event is another indication of the convention's expansion. Just last September AnimeKon announced that the convention would be moving from a two day event to four days, kicking it all off with their Dare to Bare Cosplay Catamaran Cruise (which had quickly become a staple event in the AnimeKon calendar).
Speaking to Zeitgeist Entertainment Magazine, co-founder Mel Young said:
"This has been in the works since 2017 when AnimeKon: LIM8TLESS was completed. We tend to plan way in advance so we know we have a shot of booking guests of his stature – they're usually quite difficult to get to commit! We've wanted Manu for years now – his body of work is incredible and his fan appeal is a sight to behold. Being the first Caribbean comic con to host him is something we've dreamed about for quite some time and we are thrilled that it's now a reality.

We've had quite a lot of fans request him as well so we know that in approaching him to appear, we were certainly on the right track! The response of fans thus far has been extremely uplifting and honestly quite gratifying. When Omar and I first set out to host this event, it was borne out of our desire to give fans, like ourselves, the most amazing fandom experience that didn't require them to have to leave Barbados and expense themselves. We're thrilled to be able to continue our tradition of hosting a comic con that engages the imagination, interest and excitement of all our fans and it's an initiative we'll be sticking with for years to come. Fans can always expect to connect with their favourite idols and fellow fans at AnimeKon Expo!"
Early bird tickets for Animekon IX: World of Wonder are now on sale and are available from Ticketpal Caribbean. For information on the different types of tickets and ticket outlets that they can be purchased from, go to Animekon's website here.
Watch the AnimeKon VIII: LIM8TLESS After Movie, Cosplay video and Dare to Bare Cosplay Catamaran Cruise highlight video below.
AnimeKon Geekcations: Dare to Bare Cosplay Catamaran Cruise 20…

A bevy of beauties, bountiful booze and bare bacchanal!No AnimeKon Expo "Geekcation" experience is complete without our all-inclusive "Dare to Bare" Cosplay Catamaran Cruise aboard the ultimate party boat, Jammin' Catamaran Cruises!Don't miss out on the most epic of summer adventures right here in sunny, geektastic Barbados, with AnimeKon, the Caribbean's BEST comic-con!BE FIRST IN LINE: Sign up at www.animekonexpo.com for exclusive news on AnimeKon 2018 "Geekcation" events, partners, tickets and more!You'll soon discover that a Geekcation in Barbados is #notyouraverageholiday.Music: "Upside Down" by Peter RamProduced By: De Red BoyzRemixed By: Andrew DennyLabel: Pyramid Music Group (Barbados)

Posted by AnimeKon Expo on Tuesday, October 10, 2017
Tell us how can we improve this post?