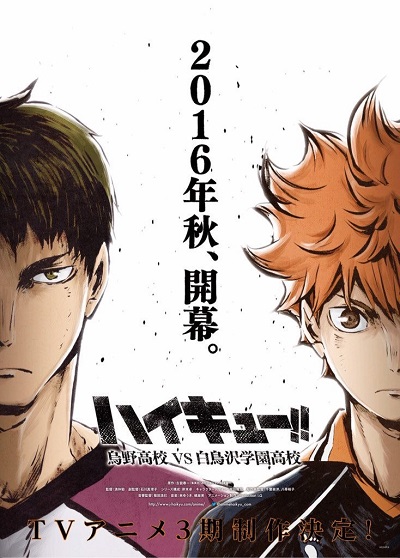 ANIME
Haikyu!! Karasuno High School VS Shiratorizawa Academy
STUDIO
Production I.G
GENRE
Sports
Comedy
Drama
PREMIERE DATE
October 7th at 26:10 (JST)
TELEVISION STATION
MBS, TBS, CBC, RKB, HBC, TBC, and BS-TBS
STREAMING LINKS
Crunchyroll
DIRECTOR
Susumu Mitsunaka
CAST
Ayumu Murase, Kouki Uchiyama, Miyu Irino, Kaito Ishikawa, Yuu Hayashi, Toshiki Masudam, Nobuhiko Okamoto, Youshimasa Hosoya, Hiroshi Kamiya, Soma Saito, Satoshi Hino, Kazunari, Kaori Nazuka, Sumire Morohoshi.
NEW CAST ADDITIONS
Ryota Takeuchi, Teruyuki Tanzawa, Subaru Kimura, Takuma Terashima, Tsuchiya Shimba, Kenji Fukuda, Toshiyuki Toyonaga, Daiki Omori.
SYNOPSIS
Junior high school student Shouyou Hinata gains a sudden love of volleyball after seeing a national championship match on TV. He creates a volleyball club and eventually, five other members join the team, but they suffer a crushing defeat in their first and last tournament in middle school at the hands of so-called "King of the Court" Tobio Kageyama, in the first round. So, Hinata joins Kurasuno High School's volleyball team, vowing revenge against Kageyama. However, Kageyama is also on Kurasuno's team. The former rivals form a legendary combo with Hinata's mobility and Kageyama's precision ball-handling. Together, they take on the local tournaments and vow to meet Kurasuno's fated rival school in the nationals. After finally overcoming one of their biggest hurdles that is Aoba Jousai, Karasuno is now set to face their biggest obstacle yet: The strongest team in their prefecture, Shiratorizawa Academy. With a guaranteed place at Nationals on the line, both teams are set to go all out in this 10-episode special! – Anime News Network
WHY WE'RE WATCHING
Because…..Haikyu!! is bae. For real, I wish I were kidding. In nearly every new season of anime, there exists at least one sport related show. Unfortunately, there were never enough to truly impress me and so I took a long break from the genre. That is until Haikyu!! came along and showed me the light. Not only do I like volleyball, I love how even though the characters are 100% dedicated to the team and their sport, the comedy is first class and manages to fit in so well with situations. It also shows that they also go through times of self-doubt, vulnerability, depression, frustration and general concern as any other person would, particularly the third years on the team who want to see Karasuno shine on the national stage once more. There is also a cast of many different characters, all with different personalities from the over-energetic Hinata to the neurotic Yamaguchi, and who could forget the comedic relief duo of yakuza-talking tough guy Tanaka and Nishinoya, who forever watch over (*ahem* let's call it the welfare of) their beautiful team manager Shimizu. Even though season 3 is only going to be 10 episodes long compared to the first two seasons, it is set to be one of the most exciting showdowns to determine whether Karasuno will be able to get through to play their fated rival Nekoma after their promise at the training camp in season 2.  There is much to look forward and I don't believe that I.G production will disappoint on that.
RECAPPED BY: Kaetan
Tell us how can we improve this post?