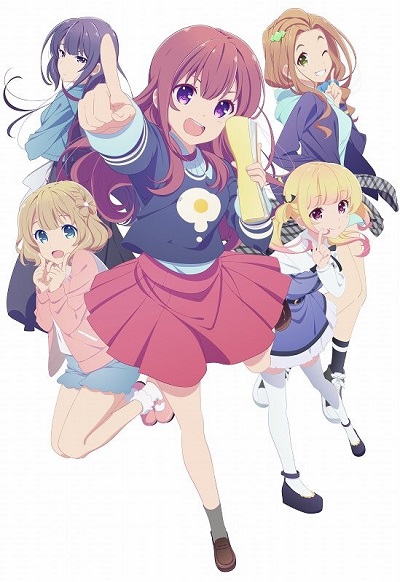 ANIME
Girlish Number
STUDIO
Diomedea
GENRE
Slice of Life
PREMIERE DATE
October 6th at 26:28 (JST)
TELEVISION STATION
TBS, Sun TV and BS-TBS
STREAMING LINKS
Crunchyroll
DIRECTOR
Shouta Ihata
CAST
Sayaka Senbongi, Kayzuya Nakai, Kaede Hondo, Saori Oonishi, Yui Ishikawa, Eri Suzuki, Yuuichirou Umehara.
SYNOPSIS
The story follows the lives of Chitose Karasuma, a college student who aspires to be an idol voice actress, and other young women in the industry. – Anime News Network
WHY WE'RE WATCHING
There was Shirobako, a show that surrounded the anime making industry and its constant struggles. New Game, dare I say which was about the development of games, but its' light hearted comedy made it less relatable has just finished airing its twelfth episode. You have to wonder, what could possibly be the next show that will attempt to lure us into the reality of the industries that we follow, and those people in said industries who are constantly working so hard to bring their consumers timeless entertainment. Well Diomedea, has the answer to that, with their newest title for the fall season, Girlish Number.
Shouta Ihata, whose recent works include last year's television adaption of the ever popular online browser card game, Kantai Collection, makes his TV anime directorial debut in what can be considered as a first for this studio, since they normally specialize in comedies such as hard hitter for last season, handa-kun as well as the ever present Ika Musume (Squid Girl). Their last attempt to jump into a new genre by way of Spring 2016 mystery title, Mayoiga was not too well received by some, so we're hoping they can redeem themselves. The character design is cute, plus Nakai Kazuma, another favorite seiyuu of mine…Nonono, let's try that again. My most favorite ever male voice actor, Nakai Kazuya (One Piece, Samurai Champloo, Gintama) is also in the show, so expect lots of fangirling! Good luck to Diomedea with this new adventure!
RECAPPED BY: Kaetan
Tell us how can we improve this post?