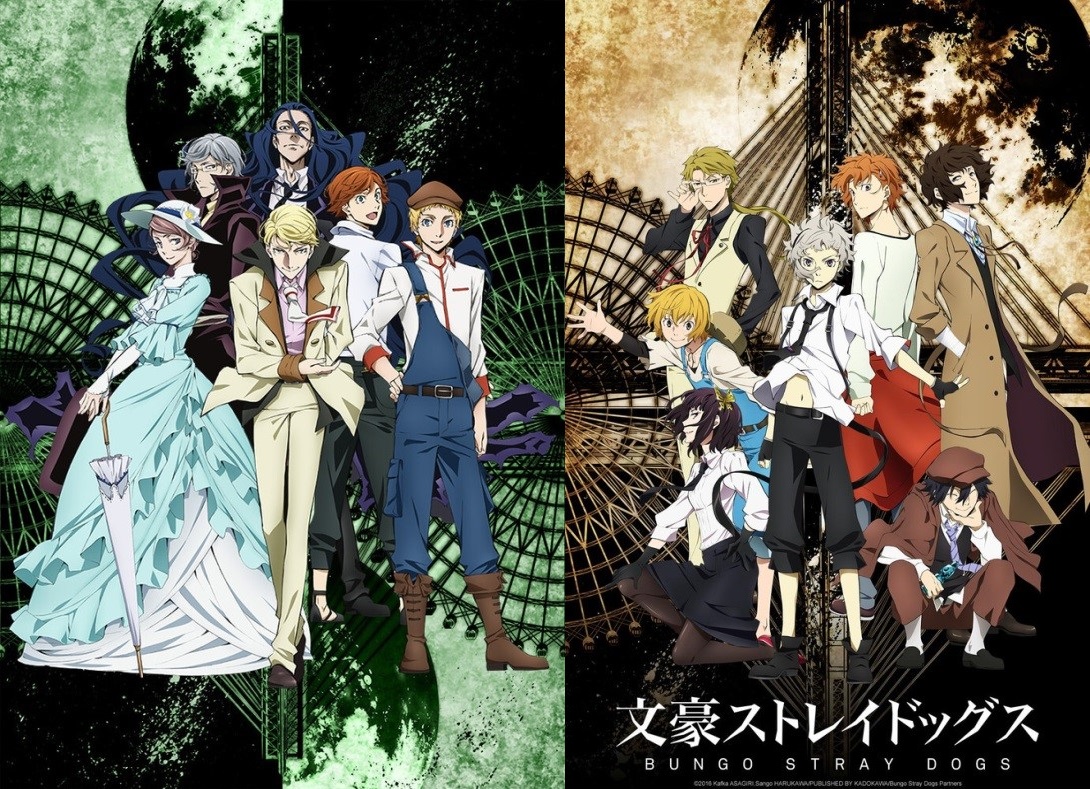 ANIME
Bungo Stray Dogs 2
STUDIO
Bones
GENRE
Mystery
Supernatural
PREMIERE DATE
October 5th at 25:05 (JST)
TELEVISION STATION
Tokyo MX, Wowow
STREAMING LINKS
Crunchyroll
DIRECTOR
Takuya Igarashi
CAST
Yuto Uemura, Mamoru Miyano, Kensho Ono, Rikiya Koyama, Yoshimasa Hosoya, Hiroshi Kamiya, Chiaka Omigawa,  Hiroyuki Kagura, Kishou Taniyama, Yuu Shimamura
NEW CAST ADDITIONS
Mitsuru Miyamoto, Tarusuke Shingaki, Kaori Nazuka, Takahiro Sukrai, Hiroyuki Yoshino, Kana Hanazawa.
SYNOPSIS
Nakajima Atsushi was kicked out of his orphanage, and now he has no place to go and no food. While he is standing by a river, on the brink of starvation, he rescues a man whimsically attempting suicide. That man is Dazai Osamu, and he and his partner Kunikida are members of a very special detective agency. They have supernatural powers, and deal with cases that are too dangerous for the police or the military. They're tracking down a tiger that has appeared in the area recently, around the time Atsushi came to the area. The tiger seems to have a connection to Atsushi, and by the time the case is solved, it is clear that Atsushi's future will involve much more of Dazai and the rest of the detectives! – My Anime List
WHY WE'RE WATCHING
It's not very often that you get to witness a hot-blooded supernatural fist fight that has been directed by a conspicuous shoujo anime director. That's right, Takuya Igarashi returns to our screens once more for a second season of Bungo Stray Dogs. Igarashi is known for being able to mold whatever series he picks up into his own ideal, while still respecting the original foundation as well as his approach to comedy. So it was safe to say that this title was going to be in good hands.
The show itself still has much to offer, particularly on the ever colourful returning characters' back-stories and has given itself enough room to expand on those stories. The beautifully drawn and animated characters are all voiced by talented seiyuu that truly breathe life into the characters in their own unique way. The seiyuu to listen for would be Mamoru Miyano who voices Dazai. Miyano demonstrates his flexible voice range between Dazai's cool headed rational moments and then his MANY not so cool moments (Plus, I has a small crush on him as well. K. Bye) With a new set of villains coming into play, and plenty more secrets to be revealed, we can't wait to see what Bones has in store for us this season with Bungo Stray Dogs 2!
Tell us how can we improve this post?