For most of us, the term "Android Launcher" means absolutely nothing in our day to day lives. The beauty of owning an android device however, is having the choice to break away from the norm, and add some flare to the interactions with your daily device. I am sure most of us remember installing interesting themes on our phones back in the day, just to try something new. Android launchers follow the same concept, but go way beyond just the visual. Not only can you tweak icon appearances and font sizes, but also change the device's behavior to compliment your daily activities. Adding functionality is the name of the game when it comes to installing launchers, and its one they are very good at.
Today we look at two android launchers at different ends of the spectrum, one which excels in the art of simplicity, and the other which strength lies in pure customization.
Google Now Launcher: Google Inc.
If pure simplicity and a clean android experience is what you are looking for in your smartphone, nothing gets better than the Google Now launcher brought to us by Google Inc. Getting rid of pointless apps from the manufacturer is first priority in creating a cleaner interface for your mobile phone, and this launcher does just that from the moment of installation.
The "pièce de résistance" however, lies in its Google Now feature. When you go left of the main home screen, it brings you to an area populated with cards which include up to date local weather information, any important upcoming appointments, updates from websites you visit the most, and other information accessible from your phone. This means in essence, Google Now becomes your very own personal secretary, as it learns from your viewing and work habits, and updates the incoming information to reflect your actions. Building on this feature, the launcher also has a voice search option, where if you say "Ok Google" from any home screen, you can ask the phone to search for information, get directions, or create reminders. Long pressing on the home screen brings you to three options of changing your wallpaper, selecting widgets or going into the settings of the launcher.
As expected of Google Inc., this is a well-made launcher, with a clean interface that is easy to get the hang of. Updates come quick and timely to Google made applications, so we can expect this launcher to get even better in the future
Source: Play store
Nova Launcher: TeslaCoil Software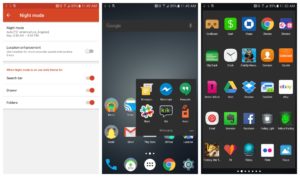 Ladies and Gentlemen, here is where we unlock the true potential of the android operating system. Where boys become men, where we turn water into wine, where we become legends. Ok that last part was a little out there, but it does capture the point of which I am making. If you came to android to make every bit of your device experience tailored to your needs, well then sit down and enjoy the ride, because you have found Narnia.
Nova launcher is often lauded in android circles, as one, if not the best 3rd party android launcher available on the market. It is not hard to understand why either, since right from the get go, Nova launcher gives you the tools needed to change every inch of your interface, in a simple to understand manner. Though it is true Nova launcher can be loaded on and used in a similar fashion to the above mentioned Google Now launcher, its real power lies in customization.
Full control is acquired over the size of icons, the amount of icons you can have in a given row and column, and the labels you give to them. Moving on from just the icons, you have full control over all animations on your phone, the scroll speed, the way you use specific amount of fingers to launch certain actions, the list goes on. One of its more loved features however, is the ability to hide any apps that you have no use for. So yes, goodbye to all the random apps on your phone installed by the manufacturer, taking up precious space that can be filled with apps you actually want to use; reducing the amount of clutter on your device, and over all giving it a better user experience. Every single aspect of the interface can be changed, which is a big plus for us who love to add a bit of personality into things we own
Nova launcher has a paid version in the Play store which costs $10 dollars in Barbadian currency; however there is a free version, which has most of the needed customization options of the paid version.
Source: Play store
Tell us how can we improve this post?