The Challenge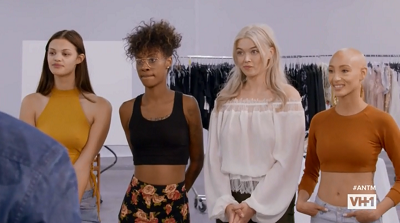 The contestants had dual roles in this week's challenge as both the creative consultants and models for their Pantene campaigns. They were given a Pantene product suited to their hair type and had one hour to pick props, do their hair, make-up and styling and "figure out" their campaign. They also got to choose their best photo.
I wasn't surprised that Jeana went with a wig and overall look that was fairly similar to Khrystyana's. Maybe she didn't do it on purpose – she did say that she didn't care what the other girls were doing and wasn't checking for them – but if she did, it was a good play on her part because Khrystyana was her strongest competition. Doing the same thing as her and doing it better would only prove why she needs to be there, why she came back and why she needs to win.
Kyla tried a lot of different things with her photo, but I did question why in her first set of shots she didn't show the product. So it was good that she brought it in for her subsequent ones. We saw more of Khrystyana making requests – which was adorable – than of her actual performance. The first thing she did, putting up three fingers, was kind of cheesy and on the nose, but she was serving face!
I had to agree with Jeana's assessment of Shanice's shoot; she did a lot of everything, perhaps too much and it didn't look like she had a solid idea of what she wanted to do. I liked the giant rose that Jeana had as a prop and how the colour of it popped against her white suit, I didn't get the hour glass and she did really well on set.
Shanice's photo was pedestrian and didn't say anything, not even the message she was trying to communicate. There was something off about the texture of her arm and the pose didn't flatter her body at all. Her make-up looked good, though. Jeana had a nice shot, but I feel like we'd seen that pose and face from her before. Plus, the product wasn't even in the photo.

I would have liked Khrystyana's photo more had the grandfather clock not been there. Other than that, it was a really good shot and her face looking amazing; she really drew me into the photo with the look in her eyes. I didn't understand what the flowers had to do with anything in Kyla's shot and worst yet they obscured her face, which wasn't even very good. She looked bored.
Khrystyana won the challenge, which she herself wasn't expecting, and picked Kyla to share in her win.
At The House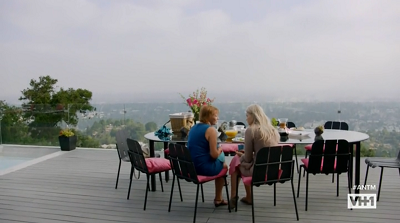 I had a feeling that the challenge win was going to be a visit from their parents. It was hilarious that just about the first thing Kyla had her mother do was make her bed. Considering that Khrystyana had mentioned earlier in the episode that she never told her mother that she had been molested and that she knew that she had to, I fully expected her to tell her mother during the visit. I loved that before she could say anything her mother just reaffirmed how much she loved her. Khrystyana could have literally told her anything and her mother would still be there for her. It was a sweet and touching moment.
The Photoshoot
The contestants did yet another Pantene photoshoot, this one high-end editorial, and they were representing the same products that they had in the challenge and one of them would have their photo used as part of a real Pantene campaign.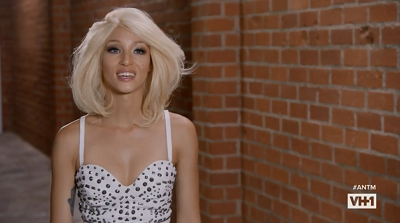 I gave Jeana the benefit of the doubt in the challenge because of reality TV editing and how manipulative and deceptive it is, but she picked a blonde wig yet again. That cannot have been accidental. She was definitely gunning for Khrystyana and I was all there for it. Savage Jeana was pretty darn entertaining. Let the Battle of the Blondes begin!
Khrystyana looked hot, but also cute and playful in her shoot. There was no way she was going to have a bad photo at panel. She was really working it and she looked like a star. But she really started to struggle when she paid too much attention to Jeana and that was disappointing. Kyla look so good on set! Much better than she did during the challenge. I did worry whenever she titled her chin up since Drew told her not to, but she looked so pretty and youthful.
I thought that Shanice was doing pretty well on her shoot, she certainly looked better than she had in the challenge, but Drew didn't seem to like it all. I agreed with Drew, Jeana was way too sexy for a commercial shoot and she does tend to lean into really in your face sexy and not the understated sexy that Khrystyana often does. I didn't know what she was doing or trying to do or if she even understood who the client was. It was so weird.
Judging
Shanice's photo definitely looked like a hair ad, the way they styled her hair worked for her and there was so much sex appeal in her one visible eye, but it still felt like it was missing something and would have been prettier had her lips been closed completely. Jeana's photo was not as sexy as I was expecting, so she did manage to tone it down, but it didn't feel like a hair ad. It felt more Cover Girl to me now that the brand has gone an edgier route. I really liked it though, especially the pose and her body language. She looked like a punk rock princess.

Kyla gave me so much life with her photo; she was fun, flirty, youthful and relatable. She was a little stiff with her pose, but her face was gorgeous and the movement in her hair brought the entire photo to life. She was on point and on brand. Khrystyana didn't blow me out of the park with her photo. Nonetheless, she looked elegant, sophisticated and sexy, but not too sexy. Hers did look like a hair ad as well, but for a more mature audience than Kyla's and one done by an actress and not a model. Still a beautiful photo, however.
For me the bottom two were going to be Jeana and Shanice.
The Elimination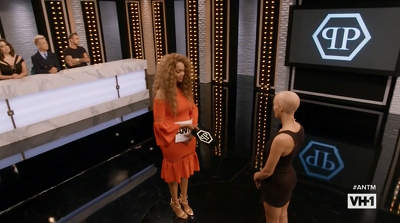 As I expected, Kyla and Khrystyana were the first and second girls to be called and Shanice and Jeana were in the bottom two. I had no idea who would go home or who I thought should have. Jeana did miss her target by a long shot by being too sexy and Shanice's photo wasn't very good. It was a tough one to call, even based on body of work because I have loved what both of them have done in the competition, even though Jeana plateaued somewhat while others like Shanice and Kyla grew.
But it was Shanice's growth over the course of the competition that gave her the edge over Jeana for the judges and Jeana would have been sent home if not for Philip. I was truly surprised when it looked like Jeana was being eliminated, just because she'd only made the comeback last week and was just as quickly booted off the show. For a second I thought that Jeana had been eliminated, but still cast in Philip's show. I would have preferred that, though, because I think it really was her time to go home.
Random thoughts:
I kind of feel sorry for Jeana being isolated in the house, but she doesn't seem to care.
Just realised we haven't seen them on the phone like, all season.
I thought we were going to see Khrystyana tell her mother on the phone.
I almost cackled at the fact that Shanice got the conditioner because her hair always looks drier than the Sahara.
Shanice is starting to get really salty about everything. Final four means more pressure to win and she's definitely feeling it.
Oh Jeana totally slid in to distract Khrystyana. I see you, girl.
Shanice's hair really does look better than it ever has.
America's Next Top Model airs Tuesdays at 8 PM on VH1.
Tell us how can we improve this post?