The Challenge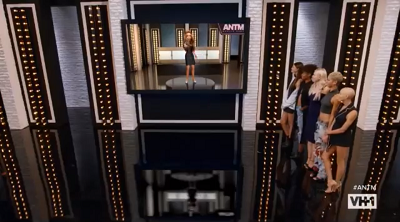 This week's challenge started immediately after last week's judging. The contestants had to create an avatar of themselves in the America's Next Top Model Mobile Game, complete with a backstory, in just fifteen minutes. The winner was chosen by the app's creator, David Ortiz, and Law – who would be styling the winner for the next panel, using clothing from L.A.'s top showroom.
Rio's avatar looked a lot like her. Her outfit didn't seem very much like Rio, however, because I don't recall her wearing something like that on the show. Kyla's also had a strong resemblance to her, but her backstory was a little weird. I loved that Shanice brought Shanasty to her avatar and I liked the way that Shanice styled her.
Khrystyana had a cool outfit for her avatar as well and if she wins the competition, I need her avatar to have that Russian catchphrase. Jeana's avatar wore just about the same thing as Shanice's and unlike Law, I didn't hate it. Her avatar didn't seem to have much of a story though and seemed rather boring.
My two stand outs were Khrystyana and Shanice, but I could see why Law and David would have picked Rio. After all of the girls went, though, it was clear that Khrystyana was the winner. She has the lightest, most fun and funniest personality in the house and is always good vibes. She brought that to her presentation.
At The House
Rio was being so cocky. Just as cocky as her good friend Jeana was saying that Shanice had been acting just one episode ago, in fact. Like Kyle said, everyone has something they're insecure about and for Rio, as we know, that's when anyone does better than her. Of course, her dear friend Jeana wouldn't call Rio out on her cockiness the same way she did Shanice. Not just because she wouldn't see it, but because she had her own insecurities to deal with.
The person who came out looking the best after Jeana's little breakdown was Khrystyana honestly. She's better than most of us; she actually went to and comforted Jeana even after she'd been mean to her. Most other people would have left Jeana alone to wallow.
Jeana was the latest contestant in the competition to feel the pressure of it. She was very upset that Law told her that she has no personality. While I do agree with her that he doesn't actually know her so he can't exactly say that, on the other hand, ANTM has always stressed the importance of having personality. Jeana is, perhaps, too quiet and serious for ANTM. She just needs to come out of her shell the way that Shanice did.
The Video Shoot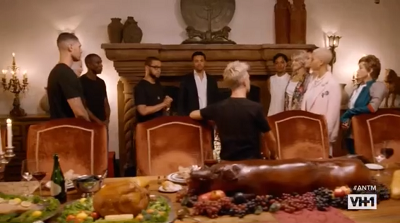 The girls did another fashion music video with Director X this week. The video was set to the song "Lake Shrine" by Maejor. As with the challenge, the girls needed to show personality.
At the start of the shoot, the girls sat at a dinner table with Maejor and had to look bored. Rio looked far more disgusted that bored and Jeana was leaning into sexy and there was nothing "bored" about what she was doing. They really, really struggled. Hadn't Rio just said that she's not struggling? Kyla surprised me far more than anyone. She has been going up in the competition lately, but it still caught me off guard how well she did.
Kyla continued to rock it during her solo moment and she never looked that model-esque or that sexy before. She did so well. I didn't think that Jeana's performance was bad, she just didn't go big enough; she was too restrained for what the intention of the shoot was. Rio was trying too hard, but even then she wasn't doing enough for Drew and Director X. That mouth open thing she did was very unattractive.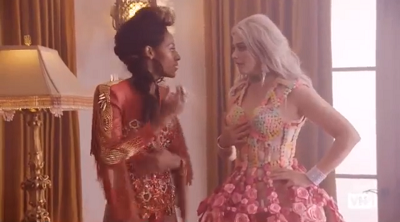 Shanice was on fire. Not just in terms of her performance, she was h-a-w-t. I don't think she's been quite so sexy before. Not even compared to last week's photoshoot. Khrystyana broke her shoe so she didn't get as much time to work it and still she turned it out. Jeana just…I don't even know. No one on set called her out for jumping into the shot so either it was intentional or it worked so well that they didn't mind.
From what Khrystyana said, however, it seemed like the former was not the case. Why else would she have been on set with them, though? She looked so bitter, angry and spiteful standing in the corner watching Khrystyana and Shanice. I'm glad that Khrystyana confronted her about the shoe and her pushing herself into the video. I didn't believe Jeana when she said she wasn't happy that Khrystyana broke her shoe and that Director X told her to get into the shot.
After the shoot I was positive that Jeana and Rio would be in the bottom two and Jeana was the one I wanted to go home the most.
Judging
Kyla's shots were everything! The girl in those shots was not the shy, nervous girl who was flustered because she was standing in front of Director X. She was confident and oozing sex appeal. Khrystyana can do no wrong. Her shots were cute, playful and feminine, but also sexy in a way that wasn't overt like Kyla's. Jeana looked beautiful in her shots, but she was really boring. She just fell flat. Rio was also pretty boring. Shanice was in the middle this week; a lot better than Rio and Jeana, but fell a bit short of being as good as Khrystyana and Kyla.
Shanice just had to bring up Jeana jumping into the shot and I'm glad that she did. Jeana wasn't lying when she said that Director X told her to get into the scene after all. She did seem rather ticked off when she said that she was shoving them in character and not being spiteful, understandably. However, she was rather childish when she hid herself under the blanket as Khrystyana apologised for not believing her and tried to explain how she felt. Jeana became a real bitch in this episode. Her "F**k everybody" attitude was such a turn off.
Call Order and The Elimination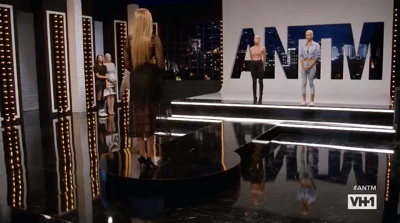 Called it! Jeana and Rio were in the bottom two. The top three contestants this week was an obvious one to call; they did much better than the bottom two. It didn't matter to me who was called first between Khrystyana and Kyla. They were hands down the top two. As much as I love Shanice, I didn't think that she deserved to be called before either of the two of them this week.
I can't be the only one who was happy to see Jeana leave. She was insufferable in this episode and her stank attitude would have grated on me had she stayed longer. Of course she didn't hug anyone besides Rio when she left, not that we were shown anyway and she just couldn't leave without saying one last bitchy thing about the others.
Random thoughts:
Rio irritates me too Shanice.
Oh yea, I forgot that Rio had a brain tumor.
Lol Khrystyana still can't say "bitch" with a mean face.
Jeana is so damn salty and doesn't realise she's as bitchy as she says that Law is.
At least Rio had best photo to go home to.
Oh no…not that wig…
Kyla told Drew she likes Director X.
So glad that Khrystyana sees how much of a bitch Jeana is.
Shanice's stank walk just came out a little.
Lol Tyra is not here for their drama.
Dammit! Jeana's back in the next episode.
America's Next Top Model airs Tuesdays at 8 PM on VH1.
Tell us how can we improve this post?