At The House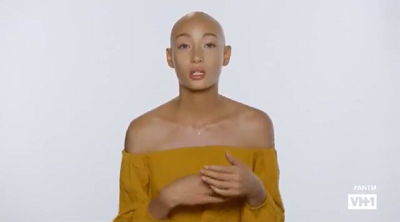 Rio's salty, hating ways are definitely starting to rub off on Jeana. She was mighty upset about Shanice celebrating her winning Best Photo, or maybe even just how she was celebrating. She accused Shanice of getting comfortable and cocky because she won Best Photo. Celebrating an achievement does not equate to getting comfortable and cocky. It was very telling when she went on to say that it was frustrating that someone who doesn't have experience (read: is as experienced as her) got best photo. Girl please.
Sure, she was upset about being in the bottom two. That's an experience that always scares the girl who ends up staying home and I get that. She also said that she thought that she wasn't going anywhere in the competition and had plateaued. That's also understandable. However, it's ugly as hell that because she's feeling down and like a failure, she's hating on someone else's success. Don't be like Rio, Jeana.
I know that some fans don't particularly like the new judges, but I have to say that I love Law. He went over to the model house to tell the contestants about their go-see challenge for the week – they'd be meeting with three designers who were each looking to cast one girl in their show – and to evaluate their runway walks in preparation for that. He also gave them tips on how to dress for the go-sees.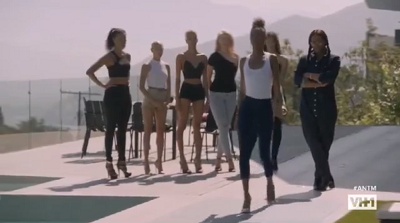 There have been runway challenges in previous episodes of this season and I really don't know how it slipped past everyone that Shanice had, as Law put it, a "stank" walk. Because she totally did. She walked like she was trying to keep her legs apart as opposed to letting them cross. Plus, she was incredibly stiff. It was dreadful. Law's impression of her walk was hilarious.
The girls also got to meet Jerrold Blackwell, the New Faces Agent, from Next Management and he gave them their portfolios for the go-sees. Law split them up into two groups of three; Kyla, Rio and Erin (Group 1) and Khrystyana, Jeana and Shanice (Group 2) and sent them on their way.
The Go-Sees
The first designer that Group 2 met with was Chris Mena of Kunst.NYC. The group overall looked to have done well enough and Shanice's walk looked a little bit better. She even had a bit of moment with Chris due to the fact that they'd both lost close family members.
Group 1's first designer was Barbara Starsmore of Band of Gypsies. Just given the look of the clothing I thought that Kyla would be the perfect fit. The designers like Rio, but her look is too hard and edgy for that kind of clothing to me. Erin perhaps was doing too much and coming on too strong with the energy in the go-see, the designers didn't seem to like it at all.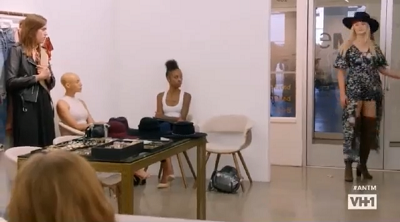 The next go-sees were inverted, with Group 2 going to Band of Gypsies and Group 1 going to Kunst.NYC. Kunst.NYC was definitely a fit with Rio's look and Erin and Kyla's as well, but I think it looked best on Rio. Khrystyana and Jeana looked beautiful in Band of Gypsies and I think they really suited the brand. Shanice, not so much, but I think it was down to the dress they gave her; I didn't like it.
The very last go-see was with Maggie Barry, who had the boldest, most unique clothing of all of the designers. All of the girls looked amazing in what they were given. Shanice was a bit too extra, though. One thing I will give Jeana credit for, is that she does have the best walk of all of the girls in the house. She really rocked the clothing.
Rio booked Kunst.NYC, which wasn't a surprise, and Maggie Barry, which was; Jeana was so good in that go-see that I thought that she had it in the bag. Kyla – also no surprise – booked Band of Gypsies. Along with booking the fashion shows, they got to keep a look from each designer. I was really happy for Kyla having booked something since she wanted to prove herself after being in the bottom two and she did just that.
At The House 2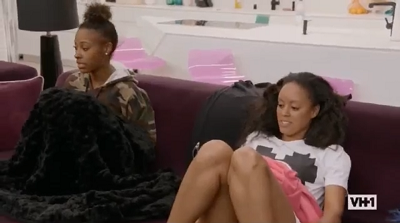 Okay, maybe there was something to Jeana's saying that Shanice had gotten cocky, because that girl just did not want to listen when it came to her walk. It was terrible. It really was and she didn't seem to think that it was or needed any kind of fixing. Do not pull a Camille, Shanice. I actually didn't think that Jeana was being mean or malicious when she showed her how she walked and told her how to improve it. Shanice was letting her dislike of Jeana get in the way of receiving constructive criticism.
The Photoshoot
This week's photoshoot was for the cover of Paper Magazine, which the winner of America's Next Top Model would have published digitally. For the cover Drew created special transformations for each contestant. Kyla would be the "Cyber-Sexy-Beauty", Khrystyana went "dark, slick and androgynous", for Jeana he accentuated her "bald beauty", Erin's look was "90's Hip-Hop Music Video", Rio was a "50's Dreamgirl" and Shanice was "red carpet ready", complete with a wig, which she was super excited for since she didn't get a trademark look.
Erin was so into the shoot and I loved her energy…but it looked like she did too much and went too far, just like she did in the go-see. When she was sitting on the stool, posing and giving face, she looked good. But Drew and the photographer didn't seem to be there at all for her antics.  Rio looked elegant, poised and actually pretty darn cute with that wig. She did quite well.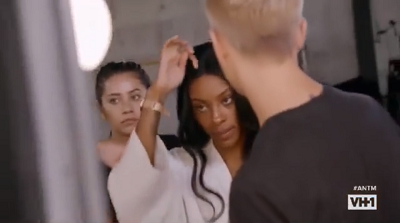 Shanice really disappointed me with the attitude on set. I don't think that she even realised how rude she was being. She approached it like the shoot was all about her and how she wanted to look when that was not even the case. She came off like such a diva. All of that being said, it really didn't look good and Drew agreed. The second look was much better, but she was still complaining. Thankfully for her she performed beautifully on set.
Khrystyana looked gorgeous and like a supermodel in her look, especially with the hair and makeup and I liked what she was doing. Jeana had an amazing look, but she didn't change her face much to me. Even so, she looked fierce. Kyla struggled so much on set that I had my doubts that she would get a good photo. Drew looked so bored with her and uninspired.
Judging
Jeana's photo was fine. It didn't "wow" me as much as the look itself did. I wasn't drawn to it and I didn't get much from it. Erin really got into character. I loved her face and her energy came through. It was a good photo, but she didn't look like a model to me. Kyla's photo was pretty weak, as expected. She looked like a snob and not like she couldn't care less, as Drew instructed. I didn't hate the photo, though.
Khrystyana's photo was divine! I loved it the second it appeared on screen. She was exuding power, strength and a bit of arrogance and looked so much like Shalom Harlow. The face and the pose were on point. I didn't like the photo that the judges chose for Rio; it wasn't very flattering to her features for me. It had personality yes, but I liked the other things she was doing on set when she was being kind of delicate and soft. I loved Shanice's cover. She looked sexy, cool and confident.
Calling Order and Elimination
Lies and propaganda! Rio did not have the best photo. That belonged to Khrystyana hands down, no question. #KhrystyanaWasRobbed! Just based on the photo I would not have called Jeana third. Shanice, in my opinion, should have been right behind Khrystyana, but her attitude on set is landed her at the bottom of the pack. I knew that it would have pushed her down further, but not in the bottom two. I thought that that would have been Erin and Kyla. But because Shanice was in the bottom two, I knew that it would be Erin going home.
Random thoughts:
I thought that Erin had five kids?
Jeana thinks that Shanice is cocky and Shanice thinks the same of her. Funny.
That was clearly Shanice in the clip from the runway show in the "Coming Up" segment. Spoilers!
Oh, it was Rio and not Shanice. It had looked like Shanice's stank walk.
Kyla looks really good as a platinum blonde.
Tyra's boobs look really big in that dress.
Law is psychic.
America's Next Top Model airs Tuesdays at 8 PM on VH1.
Tell us how can we improve this post?