The Challenge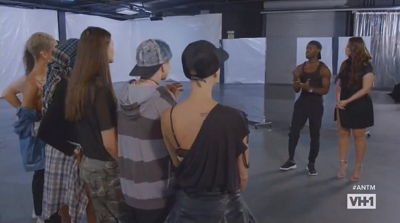 In this week's challenge the contestants worked with Movement Coach Jermaine Browne. Before getting into the teach for the day, Jermaine had the ladies show him how they moved so that he knew what he was working with. From what we saw, for the most part, the girls looked pretty good. Shanice though, did steal the show with her clap which, despite her being criticised for it, was the absolute best! The others don't know a good thing when they see it. This girl keeps giving me reason to love her.
After the girls learned their choreography for the challenge, they had to perform it in Philipp Plein sportswear while having their photos taken and posing with and being lifted by Jermaine. The winner of the challenge got to keep the look they modeled and a spa day with a friend. The ladies had not that much to do and the routine was surprisingly short.
Shanice wasn't very refined with her movements, but she killed it in my opinion. Jeana looked a little clumsy, which was unexpected. I did like the little foot switch she did at the end, though, and she kept her face fierce. Brendi K. was so awkward and I knew that she was going to be. Although she wasn't that bad when Jermaine asked them to show him how they move.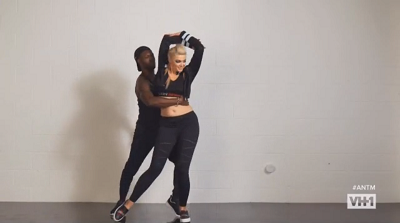 I was so shocked that Khrystyana screwed up! But she recovered well and kept it cute. Rio was robotic, just went through the motions and her face was so bland and unenthusiastic. Erin was also pretty lackluster, but she really pulled it together in the end with the pose. I was so afraid for Kyla and she was as bad as I thought that she would be; she was so ungainly it was cringe-worthy. The pose at the end from the waist up though, kind-of-sort-of worked.
I sympathized with Brendi K. feeling upset about how she performed at the challenge. Her mood was about more than just that one challenge on that one day; she's been struggling for a while and the pressure of the competition seemed to be getting to her at that point.
I honestly had Shanice to win the challenge with her, Jeana and Erin being the other standouts. I felt like Shanice deserved it, but that may just be my growing dislike of Jeana talking to be honest.
At The House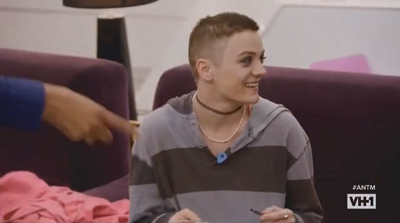 Rio and Jeana returned from their spa day…and no one cared. Or wanted to speak to them for that matter. Except for Khrystyana – that we saw – who is just the sweetest thing and I feel like it's impossible for her to not be nice to someone. Brendi K. was probably a little too quick to diss the two of them, but she did look to be in a better mood since the challenge (which was good) and I found it interesting that Jeana remembered what she said slightly differently but in a significant enough way that it made what Brendi K. said far ruder. That's probably a reflection of how offended she was by it.
There's definitely a divide in the house between Rio and Jeana and the other contestants. Quite frankly I side with the latter. Gosh darn this reality TV editing and how it skews context and reality to make people look worse than they really are/were, but I'd be lying if I didn't say that it's been successful in making me not like or trust Rio and Jeana anymore. Well, Jeana. Rio I was largely indifferent about before.
Brendi K.'s good mood didn't last very long. It broke my heart when she started crying. The second she opened her mouth and said that she wanted to go home I was 110% against it. I didn't want her to go home at all; not like that, not because she was giving up. If she need to for her well-being, then absolutely. But although it seemed like she reached her breaking point, I didn't want her to let the competition defeat her. That was what it felt like she was doing.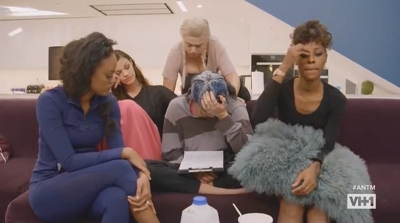 It was such a beautiful moment when Kyla, Erin, Shanice and Khrystyana all ran in and hugged her and comforted her. Given what Brendi K. said of her background, I don't think that she'd ever experienced love like that and even if she did decide to leave the competition, I was happy that she got to know what that felt like before she did.
The Photoshoot
For this week's photoshoot the contestants had an unusual partner…a parachute. Which they were supposed to work in unison with.
They also had to contend with high winds and a random sandstorm which Jeana alleged to have caused a flying tent to hit her in the back of the head with a metal pole. I'm with Shanice; that tent did not hit Jeana at all. At least not from what we saw in the footage. Maybe she stood next to another tent that flew over? Who knows. But that tent that we saw in the footage did not hit her.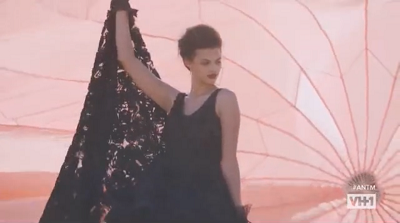 I loved that despite how down she was feeling Brendi K. still gave her best on set and her best was very good. Drew loved what she was doing even. Kyla also did very well and the styling was stunning; her legs looked endless. Khrystyana returned to form and turned it out on set; she looked amazing. Erin seemed to have gone back to her 1980's modelling a little bit; she looked fine. What we were shown of her didn't impress me as much as what the other contestants did.
Rio also wasn't very awe-inspiring, but I had no doubt that her photo would be beautiful. Shanice was awesome! She really continues to grow every week and it's such a treat watching that happen. Drew and I did not agree on Jeana's performance. I loved how she was posing and how she moved her body.
Judging
I wasn't very fond of Shanice's photo. Given what we saw her doing on set I feel like that couldn't have truly been the very best. The more I looked at it, though, the more that I liked it. She was graceful and elegant. I loved Kyla's photo; she looked almost showgirl-meets-model. There was an energy to her photo and that dress made her legs look really good. Erin's photo, on the other hand, wasn't good. Somehow she slid backward a whole lot and the pose was super, duper, dated. I didn't like it at all.

I didn't like Rio's photo either. There was nothing "fashion" or "model" about it. She looked like a toddler playing and jumping around. Khrystyana's shot was basically perfect; there was movement, energy and she looked beautiful, like a model and fierce. I really liked Jeana's pose, especially the curves she made with the lines of her body, even though she looked more like a dancer than a model. Her face wasn't all there, to me, though.

Before judging could conclude, Brendi K. unfortunately chose to leave the competiton. I really wanted Brendi K. to stay, but even after a good day she was still feeling very down and depressed. She truly was at a point where regardless of what happened, nothing was making her feel better or happy and as much as I hated to see her go, I was glad that she did what was best with her.
Call Order and The Elimination
I knew that Shanice and Khrystyana would be one and two, just not who would be one and who would be two. I expected Rio to be called third and Erin fourth, not the other way around. It was pretty obvious that Jeana and Kyla would be in the bottom two.
Lo and behold, despite Tyra's assertion that Brendi K.'s voluntary departure would not mean that there would be no elimination, there really wasn't one. Both Jeana and Kyla were chosen to stay in the competition. If I'm being honest, I wanted Jeana to go home.
Random thoughts:
Hater Rio still hating; praising and insulting Kyla at the same time.
Again, reality TV editing, but who the hell would trust Rio? That just makes me look at Jeana funny.
Clearly Shanice has a different idea of who is deserving of joining in on challenge wins. I feel like this is the second time she said that she would have chosen the runner up? Or was that someone else?
Good gosh Jeana. Have some sympathy!
I don't feel bad for Jeana and her tears strictly because she was so dismissive of Brendi K. (Yes I'm being that petty).
No! But Brendi K. did so well at the shoot! She's down again. Maybe she really does need to go home.
I hope Brendi K. and Shanice stayed friends.
America's Next Top Model airs Tuesdays at 8 PM on VH1.
Tell us how can we improve this post?