At The House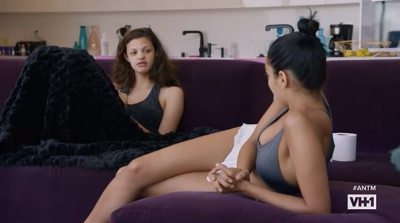 I am surprised, shocked even, that Rio is a mean girl. She was always the one we saw cheering the girls up when they felt down and giving them words of encouragement. That is the complete opposite of a mean girl. I thought that her lashing out at Sandra was an isolated incident because she was feeling very insecure that week and the pressure of the competition was starting to get to her. Apparently not. Even worse was the fact that she called Kyla "stupid", when the girl had a brain injury. Hell, even if she didn't have a brain injury that would still be a very ugly thing to say.
The Challenge
For the second week in a row Tyra stopped by the model house. This time, she instructed the contestants on how to take a mirror selfie the right way, to prepare them for this week's challenge; taking a mirror selfie as a social media ad for Jourdan Dunn's Londunn line in twenty minutes. More than that, they had to make it look like it wasn't an ad at all. The winner of the challenge would have their selfie featured on Jourdan's Instagram page.
We weren't shown all of the selfies the contestants took and only got to see Erin's, Sandra's, Jeana's and Kyla's.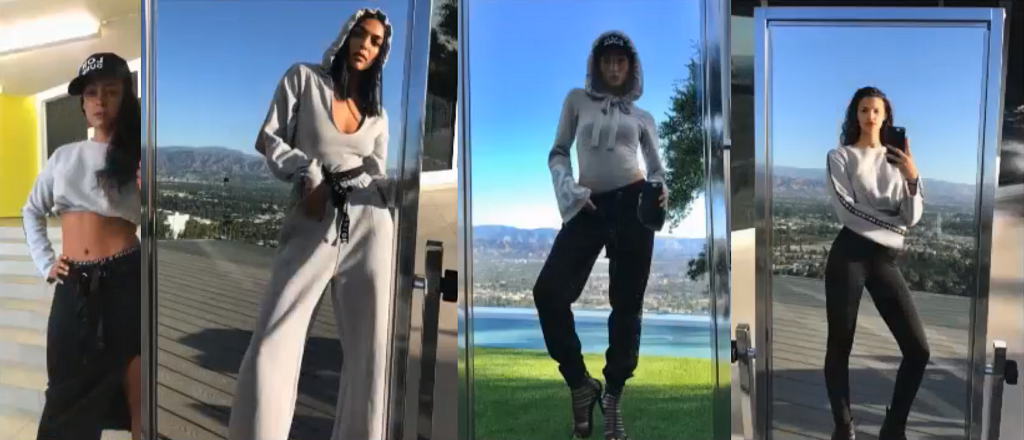 Erin's selfie was weak. The pose was okay, but it wasn't cropped properly, her face was hardly visible and she looked angry. Sandra's selfie was good; she looked like a model, her look was stylish and I liked how she "cropped" the phone out with the side of the mirror. Jeana's legs were endless in her selfie, she had a great look and lots of attitude. Kyla's selfie was so basic and she looked very insecure and unsure of herself, plus, she didn't incorporate anything from the teach.
I was surprised that Jeana won the challenge. I thought that it would have gone to Sandra just because she's the social media expert in the house. That being said, Jeana's selfie was better, it just needed more light.
At The House 2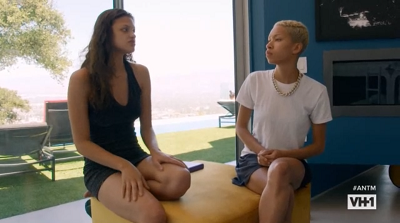 Kyla decided to confront Rio about being called stupid and, quite frankly, I don't think Rio meant her "apology." Of course, because of editing, we didn't see the entire exchange. And because of reality TV editing, things would obviously be spliced together to look a certain way.
Even so, based on how Rio explained what she says happened concerning calling the guy stupid "like Kyla" and the flippant attitude with which she did that, it didn't look like gave a damn how Kyla felt and was very dismissive of the entire thing. She didn't at all look like someone apologetic or at the very least desiring of clearing up a misunderstanding. Although, I don't see how saying someone was stupid like someone else could be misunderstood and taken the "wrong way."
In fact, Rio never mentioned the "like Kyla" part (although, again, reality TV editing so that could have been cut out) and seemed to think that Kyla found the fact that she used the word "stupid" offensive and not the fact that she called Kyla "stupid."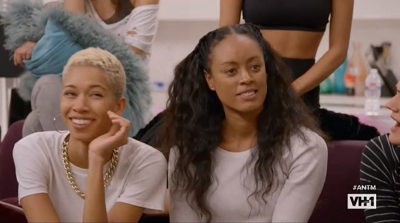 Rio put her foot in her mouth again after they got their second Tyra Mail for the week, in which Tyra stated that they would not be posing with the stereotypical, buff, male model in their next shoot. Her response to that was "We're posing with fat ass dudes" and to laugh. I'm glad that the one thick girl, Khrystyana, was the one who pulled her up for that. The rest of the girls didn't seem too pleased about it either. Rio just waved it off as a joke.
The fact that later in the episode, during a confessional, she said that overweight guys aren't cute and talked about working out and getting healthy, indicated that she did mean it.
The Photoshoot
As promised, the contestants did not pose with typical male models during the photoshoot, but "brawny" male models. Since Jeana won the challenge she got to pose with male, plus-sized, supermodel Zach Miko, while the others had to choose their male models from a casting call. Just like last week, Tyra was their photographer.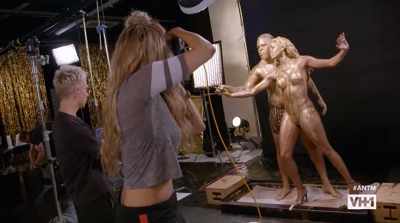 Erin looked graceful, elegant and strong on set; like a Grecian statue. I was really disappointed that Khrystyana struggled on set, but I understand why. She still looked pretty good, though. Sandra wasn't giving the judges what they wanted, but she still looked good to me. I wish she'd explained her discomfort to them. Given how she feels about men that size, I'm sure Rio struggled because she didn't like the way the male model looked.
Kyla this week was even better than she was last week; she just looked so effortless and I hope she continues to get better. Brendi K. looked good. Shanice looked awesome. Jeana and Zach were the duo, but we barely got to see any of their shoot. They looked fine.
Judging
Jeana and Zach looked like a power couple getting ready to take over the world. Her pose was effortless cool and swagger and her face coupled with her body language had so much sass and confidence. I loved it. Brendi K.'s photo looked it was straight out of a horror movie, which was interesting. I liked how there seemed to be a gender role reversal and she was strong and tall and he was soft. My eye immediately went to her, but her face was…strange…and a little unsettling. Shanice killed it in her shot; she looked sexy, powerful and like she was challenging you. She looked quite a bit like Grace Jones and her male model complimented her beautifully. Khrystyana was beautiful in her shot – albeit she looked scared – but it really was not her strongest. Her male model outshone her just because he was so expressive.

Where has this Erin been all cycle? Her shot was STUNNING! Her body looked amazing, her pose was sexy, but not too much so, the face was fierce and she just exuded self-assurance like; "Yea, I know I'm hot." Sandra's pose I liked, her face not so much; she lost a bit of her model pretty. If she had tooched more the pose would have been a lot better. Rio's photo was boring. Her face was pretty, but she didn't look like she was modelling. Kyle looked like Tracee Ellis-Ross' little sister. She looked like a disco diva on a magazine cover. Her face was strong, the pose was fierce, she just did just about everything right.

Having seen all of the girls' photos, my votes for bottom two were Brendi K. and Rio. And I didn't even think Brendi K.'s photo was bad, just not as good as the other girls'. Rio's was just…bland.
Calling Order and The Elimination
I knew Kyla was going to be called for best photo, the judges loved her photo too much for her not to have been. Erin was still my favourite because her photo blew me away the second it appeared on screen, so I didn't expect her to be called as low down as fourth. However, Jeana and Shanice had really strong photos so I'm not salty.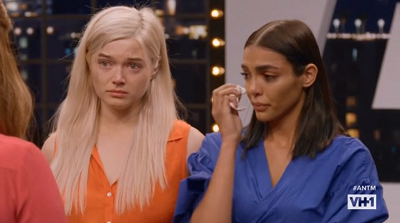 I was shocked to see Khrystyana and Sandra in the bottom two. Their photos I liked more than Rio's. It was interesting that the two girls who were uncomfortable with the male models, were the ones who were in the bottom two. Tyra's assessment of Khrystyana, I think, was unfair. She had one, single bad week and Tyra called her inconsistent. Khrystyana was one of the top girls in the house since the beginning. One bad week does not make her inconsistent.
Of the two of them I really wanted Khrystyana to stay and she did. But I don't think that it was exactly Sandra's time to go home. She was one of the weaker girls in the competition for a long time and next to Khrystyana, her body of work was not nearly as good, but I still think she could have stayed in the competition longer. I did agree with Tyra that she didn't really have the high fashion, editorial thing down though.
Random thoughts:
Little disappointed in Jeana for running back to Rio, but who wouldn't do that for their friend really?
Oh look, Rio called Kyla stupid again…
Oh I wish Khrystyana hadn't covered herself up with that jacket. The look was beautiful without it.
I know the episode is edited to position Rio as unlikeable…but it's working…
I understand that Sandra is Muslim, but dang…how is posing with men disrespectful to her fiancé?
Zach is hot.
Gosh Rio! So judgmental with that overweight comment.
Lol wtf was that Drew?
Kyla: "But maybe next time instead of just being jealous or hating she should work on bettering herself." Kyla just dropped the mic.
I would have loved the guest judge to be Zach.
Tell us how can we improve this post?