SOME SPOILERS AHEAD.
We jumped right into the thick of things with the final three's Paper Magazine spread photoshoot.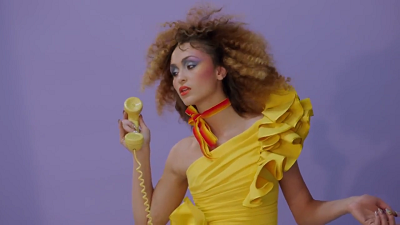 I'm surprised that Coryanne made it this far in the competition. She struggled so much in the beginning, but she really has improved. What we saw of her performance on set looked good. It's true what India said, I myself never used to notice her much and she wasn't a front runner for me until very recently. She consistently brings it on set (as she did this week) and delivers a stunning photo. Tatiana was forgettable in the beginning, she shined brilliantly for a hot second and for a while now she's fizzled out. I haven't been impressed with her for a while and she didn't impress me during this shoot.
We went right to the final runway where the girls walked for The Blonds. There were three runways and they were joined by the other eleven finalists who had been eliminated. There was a special performance by Tinashe and the final three were interviewed backstage by Entertainment Weekly. Before they went out onto the catwalk, the final three got some coaching from Stacy.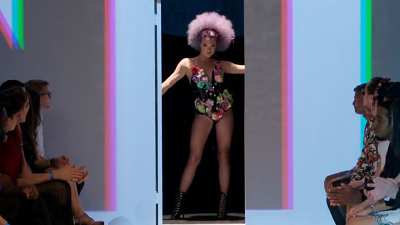 India had the best walk and the best presence on the runway of the final three. She exuded strength, ferocity and confidence. Coryanne was a very close second; there was power in her walk. Tatiana's walk was good as well, but she wasn't as strong as the other two and she still looked as low energy, to me, as she was in the teach with Stacy.
At the final judging, the girls' Paper Magazine photos were reviewed. However, the judges had already deliberated and one of the girls would be going home before they announcement of the winner.
I agreed with the judges; Tatiana's photo was a lot more editorial than her past photos had been. There was barely anything commercial about it and she really stepped it up. Coryanne's photo was actually quite sexy for her and I don't think we've ever seen quite so much sex appeal from her. I loved her pose and her face and I couldn't find any faults with her photo. India brought a different energy to her photo than the other two girls did. Hers was the most editorial to me in terms of her pose and her face. She leapt of off the page and her photo drew me in. There was a something there that radiated off of her that the other girls lacked.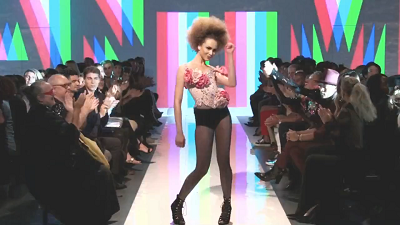 I was shocked when Coryanne was eliminated. I was certain that it would be her and India in the top two. But then I remember that at this point in the competition the girls were being judged on their body of work and not just their performance that week. In that way I could see why she'd been eliminated; Tatiana was more consistent than she had been in the overall competition.
I agreed with the judges' evaluations of India and Tatiana's final runways. Particularly Drew's point that Tatiana would likely not be the star of the runway. I just don't see it, not like with India. That being said, each girl had what the other didn't (as is usual in the final two of this show); Tatiana had the personality and embodied the idea of a boss and a brand and India was the model who had the presence in photos and on the runway.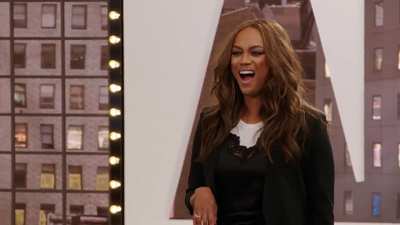 The judges got a surprise of their own when Tyra came back during the final deliberation. When she told each judge what to look for in the winner, I finally understood why each of them was there and what their roles were. I was very disappointed that her appearance was so brief. I thought that she would have stayed until the announcement of the winner.
The final deliberation got heated! And I was glad we got to see so much of it because we didn't get to see the judges deliberate much this season. The claws came out between Law and Drew and I loved it. I was firmly Team Drew (and Rita) in choosing India as the winner.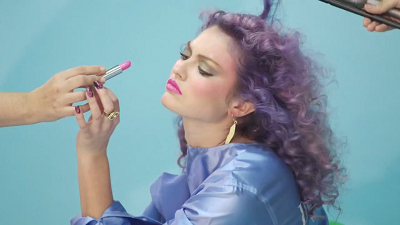 Which is why I 100% believe that the right girl won. It had to be India. I'm with Drew and Rita; they can mould India into a boss and a brand far easier than they can make Tatiana an editorial model. Tatiana had all season to do so and she didn't, whereas India grew leaps and bounds not just as a person but as a model. She is clearly more adaptable than Tatiana. And at the end of the day it is still a modelling competition and India is far more of a model.
Random thoughts:
I forgot a lot of these eliminated girls existed.
I thought the runway show as over when Tinashe went out to perform.
Was Rita the only one who got a hug?
Don't bring the Kardashians into this Tyra!
Tell us how can we improve this post?