SOME SPOILERS AHEAD.
For this week's challenge the girls acted as Rimmel London ambassadors. They were given specific make-up looks to do on each other as well as information on the products. As they applied the make-up, they had to speak about the products.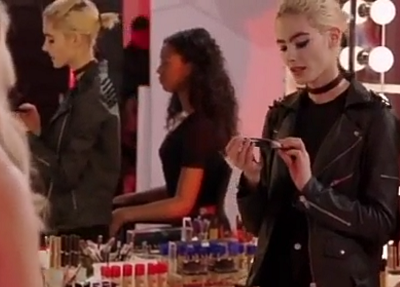 India just freaked out and never regained her composure. She kind of crashed before she even started. Coryanne did very well. She was conversational and personable and spoke about the product with confidence and ease. Tatiana was a little too professional. She knew her stuff and was informative, but she lacked personality. She wasn't warm and inviting; she was a little too deliberate. Courtney was doing so well before Rita asked her a question! Which made her statement about doing well when put on the spot so not true.
Coryanne won the challenge, obviously, and picked India – her partner during the challenge – to share in her prize. Something that Tatiana looked to be fairly upset about. Coryanne's solo prize was make-up from Rimmel London and their shared prize was visits from their mothers.
The girls did another video shoot this week and this time it was a Rimmel London commercial.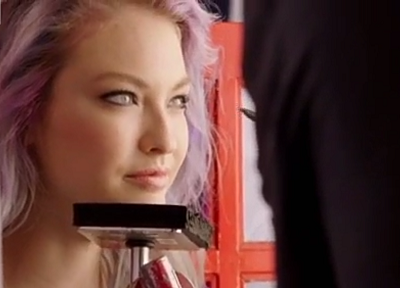 Tatiana and India breezed through their takes on set; they made it look effortless and easy and they performed very well. Courtney and Coryanne, on the other hand, struggled. I'm surprised that Coryanne struggled because she's naturally youthful and bubbly and I thought she'd be able to deliver that with ease.
I liked Tatiana's commercial; she was youthful and playful and shined on screen. My only gripe is how she delivered "Get the London look." Coryanne's was far better than her performance on set led me to believe it would be. She was cute and approachable and I loved how she looked back before getting into the phone booth.
India's was awesome as well. There was a bit of sexy there, when she got into the phone booth, that I didn't see in the others' commercials. My favourite part was when she was dancing in the rain. She was energetic and magnetic. I disagree with Rita about Courtney's being flat. Her walk to the booth lacked energy, but she came alive during the dance sequence. She looked stunning throughout and I liked it.
Of course India was called first, there was no question. What was shocking was Coryanne being in the bottom two. I knew that Courtney would be there and that she would be going home because her critique from the judges was not as favourable as that of the other girls.
Random thoughts:
I feel like Tatiana is being a little whiny and making excuses?
They're really dancing around what Coryanne's mother's problems were.
Are they not travelling this season? Does VH1 not have money for that?
Why are we blurring Tatiana's boob? Is her shirt that low?
Rita's sister sounds exactly like her.
Law is so sassy!
It's so weird seeing the other girls be nice to Courtney.
The season finale of America's Next Top Model airs next Wednesday at 10 PM on VH1.
Tell us how can we improve this post?