SOME SPOILERS AHEAD.
This week the girls did an acting challenge. They had to connect with a memory of loss and use the resulting emotion in their acting, which they did alongside Adrienne C. Moore from Orange is the New Black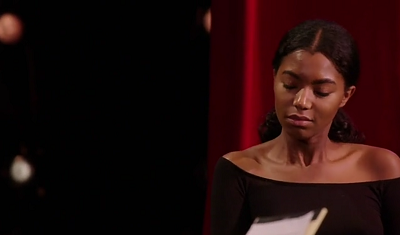 Tatiana wasn't terrible, certainly not the worst actress in the history of this show but she failed to connect. I could really see India trying to act, but I didn't hate it. She sold it with her facial expressions to me but not so much with her delivery. Cody wasn't bad. Courtney was awesome! I was wary of her confidence given the last episode, but she did really well and I was pleasantly surprised. Coryanne didn't start off that great, she kind of sucked. But she really brought it in the end and was impressive.
The girls did a video shoot instead of a photoshoot this week and they had to bring the crazy in only one take.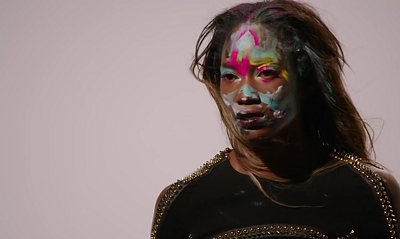 On set Courtney was beautiful and almost ethereal and she brought a lot of emotion to her performance while maintaining her pretty. Cody looked like she didn't know what she was doing, was awkward and didn't look pretty at all. India was a victim of circumstance, but I think she did well in pulling it together and pushing through to continue. Tatiana didn't bring the crazy. She was too pretty throughout and didn't look like she trying, like she gave up before she even started. Coryanne did very well with the acting but did not model.
As for the final videos, India's turned out a lot better than I expected it would. I really liked it. It was raw and visceral. Cody's was not as much of a mess either and her final shot was stunning. Courtney's final shot, on the other hand, was not as good as some of her still photos, but she looked very pretty, her video was evocative and like Rita said she didn't overact. There was beauty in Coryanne's video but it wasn't fashion. Something about Tatiana's didn't work for me. She looked kind of lost.
I would have sent home Tatiana and not Cody simply because her video didn't illicit anything from me and she didn't perform the task that she was given. Plus, Cody's overall body of work, to me, far exceeds Tatiana's.
Random thoughts:
You're the type of person who thinks they have it all too, Tatiana.
America's Next Top Model airs Wednesdays at 10 PM on VH1.
Tell us how can we improve this post?