SOME SPOILERS AHEAD.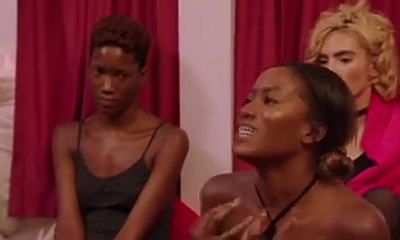 Cody and Tash…What were you thinking? It was kind of embarrassing how they aired their grievances with each other in front of Rita. I agree with the other girls; that was not the time or place. I would have been angry and uncomfortable as well. I get that she had gone to the house to get to know the girls better, but Rita was still someone with whom they had a professional relationship and they crossed a line. That was unprofessional and far too personal. Rita didn't seem too bothered by it though.
This weeks challenge was short and pretty simple. All the girls had to do was walk through some paparazzi and basically treat it like a photoshoot. The prize for the challenge was a trip to Universal Orlando.
Cody looked cool and effortless in her photo. Coryanne looked a little derpy and her face was too "posed" for it to look natural. Tash's was cute and fun. I loved India's because she made a funny face and showed personality. Courtney's was fabulous; she looked like a model working the runway. Tatiana looked confident.
Courtney won the challenge and chose India to accompany her and here the claws came out. There was no need for the other girls to be so mean about Courtney's win and to say that she was right in choosing India because she's the only one who could pretend to like her for an extended period was a low blow. It wasn't even true because India herself said later in the episode that she likes Courtney. They just looked like petty bitches by celebrating her absence.
For the photoshoot the girls shot a cover for Paper Magazine.
During the shoot, Tash's hand thing was awkward. I don't think she really understood what a beauty shoot meant but she got better after she stopped doing it. Cody looked flawless. I loved Coryanne's styling and couldn't really see what Drew was saying about her face looking old. She looked a lot better, though, when she widened her eyes. Tatiana did okay. India was fierce as usual. Courtney did not change her face at all. Her assertion that beauty is her forte…She didn't really prove that.
Moving onto the final photos, I really liked Courtney's cover shot; she looked strong, intense and androgynous (very reminiscent of Andreja Peijic). Coryanne looked like a diva but that may have had more to do with the styling. Her face was fine but there really wasn't anything behind the eyes for me. Cody was stunning! Perhaps the most beautiful I've ever seen her. There was a radiance there that drew me in.
Tash wasn't so great; her photo didn't look like a cover or like she was modelling. Her face was soft and pretty though. India was, again, fierce! Her photo was amazing and I could not find enough words to express exactly how much. Tatiana's didn't look like her really. It was kind of melancholy and subdued. It was very different from the other girls'. I don't hate it but I don't love it either.
I'm shocked that Courtney was in the bottom two. For me the bottom two should have been Tash and Coryanne, but even in that scenario I would have made the same decision the judges did and sent Tash home.
Random thoughts:
I'm so glad Law is back! I missed his commentary.
America's Next Top Model airs Wednesdays at 10 PM on VH1.
Tell us how can we improve this post?