SOME SPOILERS AHEAD.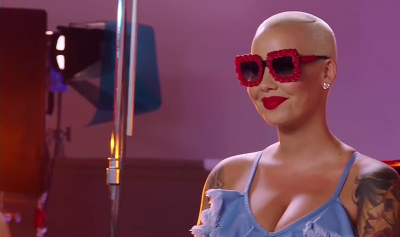 In this week's challenge the remaining contestants were split into two groups and had to make 10 – 15 second PSAs for Amber Rose's Slut Walk organisation, focused on slut shaming, sexual assault and violence against women. In Team 1 were Paige, Tash, Cody and India and in Team 2 were Tatiana, Coryanne and Courtney.
Team 2 did not work well together and seemed to bicker (Tatiana and Courtney specifically) more than cooperate. Considering what was shown in the snippet of Amber's explanation of the organisation and what it stands for, I thought that Team 2 was way off the mark with the message they delivered; they addressed women's issues in general and I was under the impression that the core philosophy of the organisation was women's sexual autonomy. In that way, it seemed to me that they went off topic.
Team 1 worked very well together, were confident and performed well overall. Their message was more in line with the impression I got from Amber's explanation.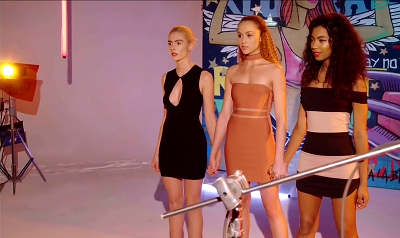 Amber's criticisms for the groups were more or less the same as mine but flipped; what I said of Team 1, she said of Team 2 and vice versa. So when Team 2 won, I was confused. I must have misunderstood what Amber meant or the way the episode was edited made her explanation unclear.
At the shoot, the girls were styled as powerful women in the celebrity sphere and had to draw inspiration from them but still be themselves and bring their personality to the photo.
Paige as Britney, Cody as Grace Jones, Tash as Tina Turner and Courtney as Madonna were perfect choices. Tatiana was given Tyra Banks, Coryanne was given Beyonce and India was Katy Perry.
I liked Tash's pose but her face was awkward to me; I'm not too fond of her mouth being open so wide. Her head was a little too far back. If she had tilted it down more it would have been perfect. But I loved the energy and definitely saw the Tina Turner in it. Coryanne's photo was not as weak as I was expecting given her performance during the shoot, but her face could have been stronger and the pose was bland. She hit the nail on the head when she said she should have created more shape with her body. This was not Cody's best photo but it was still pretty good. She also could have had a stronger face and the pose was almost there but not quite. I liked Courtney's photo, but she could have been a lot sexier. The face looked a little lost and she didn't sell me "Madonna."
Paige really failed to do anything that wasn't within her cheerleader persona on set. She focused too much on being like Britney and did not put herself into it, as I feared when she revealed how big a fan of Britney Spears she is. Her photo was boring and she didn't look like a model. Her face didn't work at all. India's photo was beautiful! Her pose was simple but powerful and her face was stunning and alluring. I didn't get Katy Perry from the photo as much as I did the shoot, but that doesn't take away from how amazing the photo was. Tatiana played it too safe. Even before she said that she was lost, you could tell that she was on set. She brought none of the fierceness and sex appeal that Tyra has. She underperformed and her photo was underwhelming. She looked like she was just standing there. She didn't smize at all!
I was kind of but at the same time not surprised that Paige went home. I'm still not sure how I feel about it. She was far more consistent than Coryanne was during the competition and performed better, but I can't say that Coryanne should have gone home. This was a strange bottom two and no matter who was chosen I would have felt weird about it.
Random thoughts:
I still think Paige should have been called first last week.
I did not realise how much I missed Law until I saw the preview for next week's episode.
America's Next Top Model airs Wednesdays at 10 PM on VH1.
Tell us how can we improve this post?