SOME SPOILERS AHEAD.
The eliminated contestants have returned and are vying for the spot that will be vacated by the girl who goes home at judging. I am so glad that they kept the comebacks. That was one thing about the later cycles of America's Next Top Model that I was wondering if they had gotten rid of.
The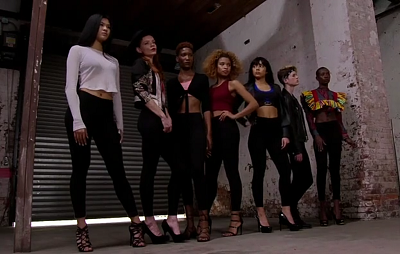 announcement was made at the challenge, which was yet another dance related one. Tanisha Scott, the choreographer behind Drake's "Hotline Bling" video, taught the girls a routine which they would use later in their music video shoot. The remaining girls and the eliminated girls were split into two squads and had to compete within their respective group for the role of squad leader. Squad A consisted of the remaining girls and Squad B was made up of the eliminated girls.
Marissa struggled with the choreography as she had in the last dance challenge. This time she handled herself a lot better than she had with Stacy. Walking away may have been unprofessional, but taking the time to gather herself was better than mouthing off. She wasn't confrontational and she was composed when she returned.
Squad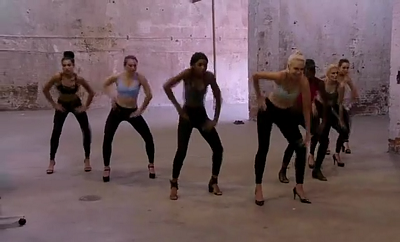 A did better as a group than Squad B. Paige looked like a peppy cheerleader and not a fierce model, but because she was the only dancer, she did execute the choreography very well. Marissa just failed with the dancing; she did not recover from earlier in the practice. Courtney did quite well with the dancing and was not as stiff as she had been in the last dance challenge, but she looked a little awkward. It was clear that she was trying and the effort paid off. Tatiana and Cody looked pretty good from what little of them was shown. I wish there had been a wider shot of Coryanne so we could have seen what she was doing.
Of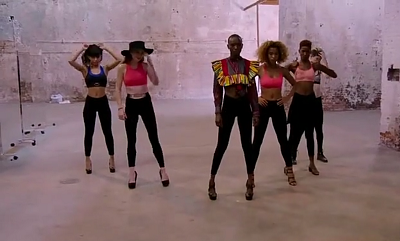 the girls from Squad B whose performances we were shown, Binta was going hard but looked very stiff, Tash looked a bit uncoordinated and like she lacked rhythm but gave a lot of energy and Giah was a little awkward but she was very cute.
Can we just take a moment to applaud these girls, who are not dancers and have no background in it, for dancing in heels and not falling on their butts?
Kyle came back and immediately she and Marissa were distracted by each other. Marissa sat around griping about how terrible she was at the choreography but didn't not at all get up to practise. She had no one but herself to blame for her shortcomings during the video shoot. What made her lack of effort all the more frustrating was the fact that Tanisha absolutely believed in her and had the upmost confidence in her ability.
The finished video was underwhelming exclusively because of the choice of music. I'm not sure if that was the actual music they used or if they switched it out when the episode aired because of usage rights. The music they used during the challenge was far better. The music did not fit at all and it's unsuitability was incredibly distracting.
At judging the girls were split into their squads once again.
Paige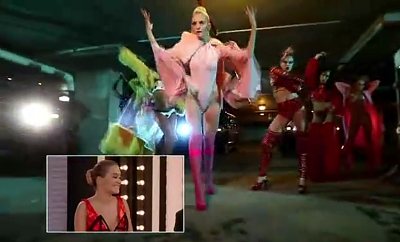 ditched the cheerleader and brought the model; she looked amazing. Tatiana, surprisingly, did not look good; she was stiff and robotic and lost her face. Coryanne's dancing looked like she was hitting the moves too hard, but her shot at the end looked great. Marissa was low energy and looked absent; she didn't perform at all. Courtney was stiff but, as always, gave good face; she looked strong and the effort she put in showed. India's face was stunning but the dancing…not so much; she too was stiff, but the styling on her was awesome. We could not see Cody's face at all! She did work the hat well as Law said and I agreed with Ashley about her shoulder. There was so much blocking of her face going on.
Tash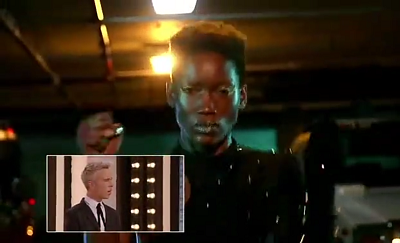 channelled Grace Jones flawlessly. Her face was strong and she looked like a bad ass. Her dancing could have been better but everything else made up for it. Kyle still cannot dance. Her face could have been better but it wasn't particularly bad. Justine was just okay. Perhaps if she had had more time with th choreography she could have done better. She looked beautiful, though. Binta's dancing was even worse than Kyle's. I felt awkward watching her and I did not like her face at all. Cherish was trying way too hard to be sexy. She missed the mark by a mile and looked like a drunken fool. I was underwhelmed by Krislian, but the styling looked very good on her. Giah really impressed me; she looked beautiful and has always been beautiful but she never put anything behind it. This time she did. It was not as much as she could have but it was enough to impress.
I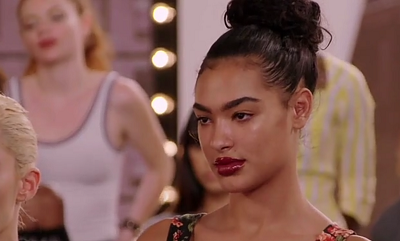 would have called Paige first instead of India. Paige was the whole package whereas India was only very good with her face. No surprise that Marissa went home and Tasha re-entered the competition; Marissa seemed to have checked out and Tash was by far the best performer of the eliminated girls. Her return, though, I don't see boding well for Cody. I think that Cody will lose her confidence.
Random thoughts:
They're making Kyle dance again?
Why is Cherish dancing in a hat?
Giah: "Nobody's here to make friends." But you called Justine your best friend earlier.
I love the styling for this video.
I love Drew.
Paige's reaction faces during call outs are the best.
America's Next Top Model airs Wednesdays at 10 PM on VH1.
Tell us how can we improve this post?