SOME SPOILERS AHEAD.
There wasn't much of anything going on in the house in this week's episode – except for Marissa and Binta getting into it; which was kind of "meh", not much drama there – so we'll just jump right into talking about the challenge and the shoot.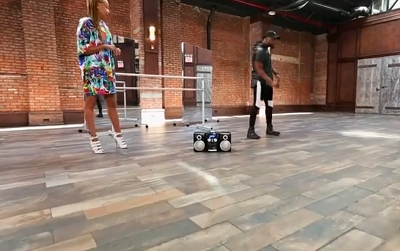 For this week's challenge the girls had to learn a dance routine and come up with their own signature move, which they executed at the end. Taught by Chris Grant, choreographer to the Queen of Fierce herself Beyoncé, the girls had to dance while looking like a model. The dance routine was longer than I thought it would be and perhaps a little too complicated for beginners – even India said that it was – but the girls did fairly well with it.
Tatiana was a little stiff but she looked like a model. Marissa dancing with the smile on her face made me think "beauty pageant" and the dancing itself was…not good…which I found surprising. Kyle was a mess, but she did it with a smile and such earnestness that I can't fault her. Courtney didn't move much, but that's understandable given her scoliosis. India did wonderfully; she moved well but didn't really look like a model. Paige did very well, as was expected, but she looked like a dancer and not a model and I agree with Stacy; the face thing was weird and distracting. We didn't get to see much of the other girls' dancing so I can't really speak to how they did.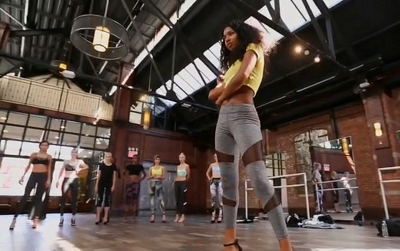 It was obvious from the moment she performed that Tatiana would win the challenge. Paige was the better dancer – obviously – but Tatiana brought the "model." She really is, as Chris said, the whole package. She wasn't someone I was particularly looking at before in this competition, but she is quickly proving herself to be a threat and is the contestant I have pegged to win this cycle.
The girls did a music video shoot this week and, like last week's challenge, they only had one take in which to get it right and had to dance using the choreography they had learned during the challenge.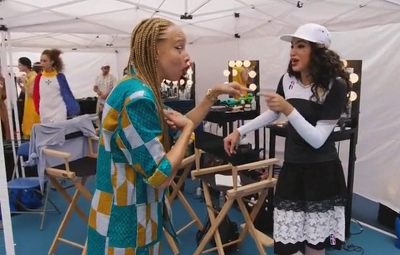 Marissa's conduct with Stacy was very unprofessional and bratty. I don't exactly believe her when she says that she was actually trying to learn from her. Maybe she thinks she did, but her attitude and behaviour suggest otherwise. She even said herself that Stacy was being annoying. No one who genuinely wants to learn from someone would call them that. If it had been a real set she would have been fired and sent home. I'm glad that later on, at judging, it seemed to hit her that she had conducted herself poorly.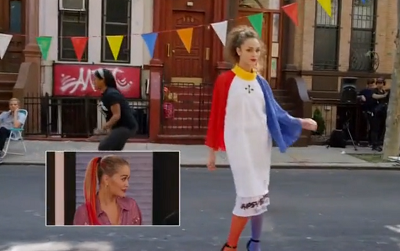 I agreed with Law; I did not like Corryanne's performance in the video shoot. As incredibly adorable as she was, she didn't look like a model, her movements were sluggish and she just wasn't impressive. But gosh was she adorable! Marissa was stiff and underwhelming and the hat thing was cringe inducing and annoying. Cody's wasn't very good. Her face was stunning, but she didn't really move much and looked a little lost. Binta look like a damn fool and was an even bigger mess than Kyle was during their lesson. Rita was right about Kyle's take; the moment at the end was brilliant, but in the rest of it she looked awkward and like she didn't know what she was doing. But again, she stuck to it and owned it. So while she's fumbling she's being very endearing.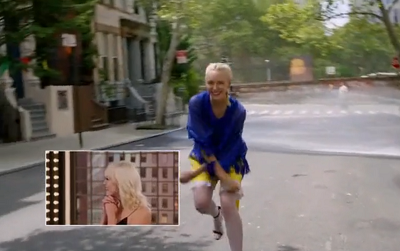 Courtney's was just mediocre; not bad and not good. She was another girl that didn't move much but her face at the end was beautiful. Courtney is totally a high fashion, editorial girl, but she needs to learn to be more commercial. Tatiana was "meh." She did so well in the challenge that I expected more of her. She kind of under performed. Paige was excellent; she was fun, youthful, energetic and cute. It was perfectly commercial and she looked beautiful. I really liked India's; she was fierce and fun and the clothes looked amazing on her. Her take was an edgier kind of commercial than Paige's but she didn't dance as well as her. Some of her movements were awkward but over all, she was stellar.
Kyle and Marissa being in the bottom two was no surprise. Kyle had been going down hill for the past two episodes and Marissa really did herself a disservice during the shoot. Hopefully her spot in the bottom two has taught her a lesson. It was also no surprise that Kyle was sent home and I think she saw it coming too. Everyone did. I'm sad to see her go, but seeing her journey there over the past few episodes made it not much of a downer. I kind of wish, though, that this week's challenge and shoot would have been something totally in her element that she would have excelled at.
Random thoughts:
It's always weird seeing the first few eliminated girls in the credits because you forget they existed.
I don't find Marissa annoying but hey, Cody is the one that lives with her. Also, I forgot she's a twin.
Is it just me or is India's hair more vibrant?
Shut up and listen Marissa.
What the hell was up with Courtney and the lipstick?
Wow, Courtney actually struggled for once.
India's hair and make up are so loud and colourful together.
America's Next Top Modeli airs Mondays at 10 PM on VH1.
Tell us how can we improve this post?