SOME SPOILERS AHEAD.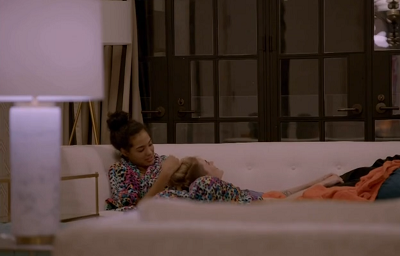 So Kyle And Marissa (Karissa? Myle? Are we even bothering to give them a couple name?) came out of nowhere and disappeared just as quickly. Right as I was starting to wrap my head around the randomness of it (they're total opposites) and find them to be rather cute. And in the double dose of drama we got this week, they were at the centre of one of the two instances.
First was Binta and Tatiana fighting over the cleanliness of the shower. Angry Black woman Binta is back and really, I'm getting tired of seeing her be an angry Black woman shouting and screaming at others. And more often than not she starts it.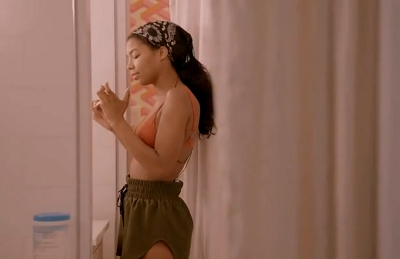 Am I the only one who was excited to see Tatiana go off on her? Tatiana's been fairly quiet and we haven't seen that side of her yet. She didn't quite go from zero to one hundred like she said she could – and thank goodness she didn't because if she is as prone to hitting people as she said, she'd have been sent home – she hovered somewhere between fifty and sixty. But still, good going Tatiana.
Then later in the episode was Marissa getting into it with Courtney, after the latter inserted herself into the Karissa lover's spat. This one wasn't as dramatic because Courtney didn't retaliate, but it was weird how she was just standing there watching Marissa and the others.
This week's challenge looked as fun as it was stressful. The girls had to jump on a trampoline and pose in mid-air, but they only had one take the get it right.
I thought Binta and Coryanne's photos were bad (you couldn't see much of Binta's face and what you could see was not attractive or appealing; Coryanne was just there doing nothing), but Kyle's was absolutely atrocious. I can't tell if Kyle is steadily getting worse or if the other girls are just getting that much better. It may be a bit of both. For someone who started this cycle as a front runner for me, she is quickly falling behind.
Paige one hundred percent deserved to win the challenge. As Ashley said, her photo looked like a campaign. Her pose and her face were strong and powerful. She had the best photo by far.
Drew had the perfect line to sum up the challenge; "When it's done right it's amazing. When it's done wrong it's terrible."
For the boxing inspired photo shoot the girls had to pose with supermodel Chanel Iman and use what they'd learnt in the challenge; posing with motion and action.
The best of the week for me were Coryanne and Courtney. No surprise that Courtney can deliver with a photograph; she demonstrates that every week. Her photo was strong, graceful and sexy, but she didn't incorporate any action. Coryanne for the first time brought an incredible photo two weeks in a row and here's hoping she does it again next week. She's getting better and better and proving she belongs in the competition. Her photo was FIERCE! The face, the pose, everything; from the tension in her arms to those sucked in cheeks that brought out the angles in her face. Stunning!
I disagree with the judges about Cody's photo. It was not good. She looked like a deer in headlights and like she was in the process of sitting on the toilet. Kyle's photo turned out better than I thought it would be, but there was something missing in the face and it's the same one she does from week to week. I was not impressed with Marissa's pose. She could have done more with her body and given it a shape, but the face was on point. Tatiana's pose was awkward and her face did nothing for me.
Paige's photo left me speechless but only because I'm not sure how I feel about it. It's not bad but it's definitely not her best. I applaud her control of her face though. Binta had no action in her photo, but it was beautiful. The face could have been stronger, but the pose I like – especially the tension in her hand and arm. My eye immediately went to Chanel in India's photo. India's body, as bodies go, is amazing but not so much the pose. I didn't like the floppy hand on her right arm. Her face was fine. Krislian at least succeeded in not being too sexy. Her pose were bland, her face was pretty and she looked short.
I was surprised by the bottom two at first because I thought India would be there with Kyle. But India did have a stronger face and pose than Krislian and has performed better overall in the competition.
Given how much she was featured in the episode this week and last, I spent the entire episode thinking it would be Kyle going home. Especially when how she did at the challenge and the shoot is factored in. When it came down to her and Krislian, however, I was no longer sure. I was surprised, though, that Kyle stayed. I'm confident that if she doesn't step it up next week she'll be the next one to go.
Random thoughts:
Someone finally said "fierce."
Why is the cleanliness of the house always an issue?
Seriously, Marissa started out as such a mean girl but now she's cool and one of my favourites in the house.
Rooting for Krislian to kick ass in this shoot.
Kyle came on a little too strong.
I wonder if Binta would hug anyone if she was sent home.
America's Next Top Model airs Mondays at 10 PM on VH1.
Tell us how can we improve this post?