She's confident about her popsicles; I've had one and I can definitely see why! Lynmarie Jack, the founder of Hopscotch Treats invited me to her beautiful and cozy home to chat about all that has inspired her and the business.
She took to her rocking chair in the corner of the living room.  Shouts of "Lyn! how ya doing?" and "How de youngster?" rang through the windows from passersby of the quiet and breezy neighbourhood. She chuckled and shouted her replies. I could see this was the norm and the friendly check-ins from the street reminded me of the close knit villages of Barbados I used to hear of.
Memories of what some persons would recall as 'village life' is something that Lynmarie is trying to recreate through Hopscotch Treats. She was inspired by her childhood stories or what she would call 'Hopscotch memories'. "When we were little – my sister and I – we would make all kinds of fruit drinks. We used to eat real fruits. We used to go grape picking, dunks picking, hog plums, plums, ackees, whatever fruits were available we just be hunting them down. Eat nuff of them 'til your mouth sore and all kind of things".
If you read our 10 Interesting Facts about Lynmarie posted earlier, you'd see #9 was that she fearlessly climbs to the top of almost any tree. That is a skill she acquired from young age; when she and her sister were in the mood for some cherry drink or treats.
She rocked in her chair laughing and trying to use her hands to show how huge their cherry tree was. "Listen, that cherry tree was unclimbable but we manage to climb it. Push through branches, get stick in yah face all kind of things. And we would pick cherries and make cherry drink or freeze them in ice cubes".
It was also there in recalling those moments of fun and adventure that she found the name of her business. "We used to play outside in the road with our friends hopscotch…skipping all kind of games and then we would run inside and have our frozen treats with our friends."
Although a business advisor wasn't too fond of the name, to Lynmarie it was a connection between childhood playfulness and adventures and a time where theses local fruits were as relevant and important in our lives. The name has turned out to be fitting in the end as her popsicles have brought the responses she was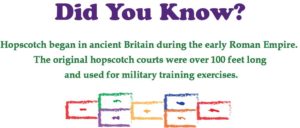 looking for.
"Almost every time, say I'm at an event, somebody would say 'Oh my gosh, this remind me so much of my childhood' and I go 'Yesss!' That's the whole idea. That is the spirit of the business. That it brings back childhood memories and it creates new childhood memories for children who may not think twice about our fruits".
Exposing children to our locally grown fruits is something else that Lynmarie wants these deliciously healthy popsicles to do. Watching children eating other frozen treats was another thing that made her think that this is something she had to do.
"I was at a picnic with some of my godchildren and the ice-cream van came around. We bought ice-creams, the children got them and when they were eating I just saw everything blue, green, tongues, lips…it looked horrific to me. It looked unhealthy, it looked wrong…it looked eww. They loved it but I thought, what is that they're putting in their stomach?"
It's not only the unhealthy and artificial treats but fruits in general. Most families would prefer to go to a large chain supermarket and buy nothing but imported fruits. She said she knows this because she used to do it too until money became tight.
"I thought, this is what we have. There are good fruits. It's good stuff and we don't use them, we don't value them the way we should. We would rather buy imported grapes rather than eat bajan cherries and bajan cherries have so much vitamin C."
She began to live what she called a very idealistic 'eat what you grow' lifestyle and recycling and composting waste from making the popsicles. Passionate about her pops, Lynmarie strives for the highest quality and this begins with the fruits. She sources them from persons who are committed to the business. When each fruit is in season, they call her and eit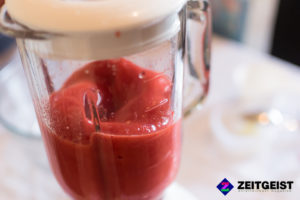 her deliver them or she puts her tree climbing skills to use.
Making something that is healthy, delicious and both children and adults can enjoy is what she loves. Lynmarie said, "I enjoy being in the kitchen. I enjoy making each flavour the bomb. When somebody tastes a pop and goes… "Oh my gosh, this is sooo good!" I'm like "Yeah, that's right." I get the most fulfillment out of that".
Bowls, blenders, pots and fruits were being arranged on the kitchen table. She began wiping down the surfaces and then pulled out the popsicle mold. Over the 6 years she's been doing this, Lynmarie has been able to refine each recipe and popsicles technique to her satisfaction. "Even if a pop is getting raving reviews, it never makes it to market until I think it's perfect" – Lynmarie said.
Without revealing too many secrets, she carried me through the process of making her favourite and one of the popular pops; Berry Limey™. She said, "99% of our popsicles are made from locally grown fruit but since strawberry lemonade is my favourite drink I had to compromise".
That's the only compromise when it comes to her pops; no artificial colours or flavours are used and she packs each pop with fruit. "People often ask, "Why are your pops four dollars?" and it's because you're not getting any dyes, any artificial flavours or a lot of water. You're literally getting the fruits blended and made into a popsicle".
As she placed the strawberries in the blender and squeezed the lime juice into a measuring spoon, she spoke of the importance of each pop tasting the same.
"You have a recipe but depending on the fruits you have to tweak it; It's really [about] quality control making sure that the product is the same all the time because we're not using artificial things that are predictable – You're using fruit. So if the rain doesn't fall, you know, the golden apples won't come out as big or as juicy or as sweet".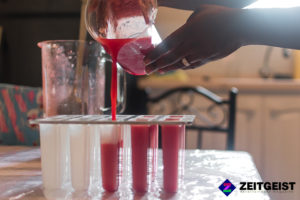 She also said that she does custom pops for some clients because she realizes a lot more people are getting into the vegan lifestyle and wanting less sugar and no dairy. "People keep asking, "Can you do dairy free? Can you do sugar free?". So, I do some without sugar like my Mango Passionista™ is sugar free because it's already sweet 'cause of the Mango." Out of those requests she also stopped adding dairy to her Sop-a-Licious™ and Coconut Drizzle™ and they still taste good without the milk.
However, she hasn't left out those who on occasions want to indulge their sweet tooth. She's created another set of pops in her "Indulgence" line of popsicles with flavours  like strawberry cheesecake and chocolate peanut.
She carefully poured the juice into the mold and then poured some into a glass. Confidently setting it before me with a huge smile. Strawberry and lime was never a combination that I would have ever thought of, but I could definitely see why this was her favourite drink. The sweetness of the strawberry with a subtle tangy taste from the lime made one refreshingly smooth drink and an even better popsicle.
Lynmarie radiates so much pride when speaking of her popsicles and Hopscotch Treats. If you want to try one for yourself, you can find them at Barbadiana in Sky Mall or check out Hopscotch Treats on Facebook.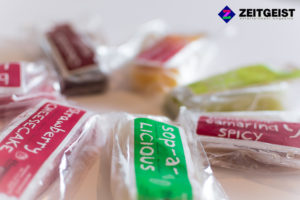 Tell us how can we improve this post?