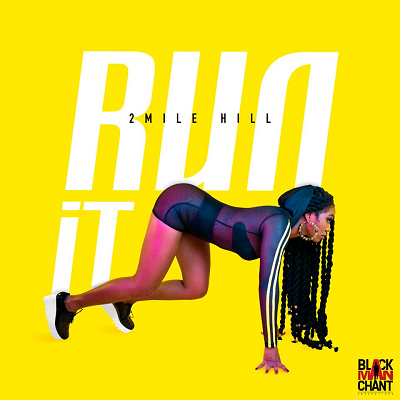 Two days ago the quintet known as 2 Mile Hill – formerly Nexcys – dropped their first ever soca track, "Run It." Now, hot on the heels of the hit song, the band has started the Run It Challenge.
Frontwoman of the band Mahalia Cummings announced the challenge in an interview on Hott 95.3 with John Doe last evening, where she described the song as "a vibe" and the "next logical step" after the singles "Conversation" and "Get Over." Doe called the song "contagious" and able to "cross borders and boundaries."
Cummings explained:
"That's the whole point. That's the idea. We reaching out to the world…Barbados is formidable. We got the talent. We got the vibes – we got vibes here…without a doubt. So come to Barbados and feel the vibes!"
"Run It" is not the first song that 2 Mile Hill has released during the Crop Over season – the first being "Get Over", which debuted last April – but it is the first specifically for the festival. The song was written by Cummings after producer and bandmate André Clarke presented her with the rhythm.
The Run It Challenge was kicked off today when 2 Mile Hill posted a video of Cummings dancing to the song on their social media. Fans are encouraged to make their own dance videos of the song and post them to their socials using the hashtag "#runitchallenge" and tagging the band with @2milehill.
Listen to "Run It" below and watch Cummings' Run It Challenge video.
De 'Run It' dance challenge now start. Do yuh own ting, mention @2milehill in your Run It dance video and use the hashtag #runitchallenge 🤸🏾‍♀️🏃🏾‍♀️#runit #newmusic #cropover2019 #soca #dancehall #dancechallenge

Posted by 2 Mile Hill on Thursday, June 6, 2019
Tell us how can we improve this post?